'I always take the bigger challenge': Franco Smith opens up about his coaching journey
SPOTLIGHT: As a young geography teacher in South Africa, Franco Smith would rise at 05:30. He would be in the gym lifting weights by six, and in the classroom for eight.
Come 2pm, he would coach the school's top cricket team, and spend a few hours helping its various rugby sides. At 6pm, he'd hop in his car and drive 180km from Bloemfontein to Kimberley where'd train with the Griquas as a fledgling professional flyhalf. Then he'd get back in the car, drive 180km home again, collapse into bed, and prepare to do it all again.
"It was sacrifice," Smith tells RugbyPass. "But every time I've sacrificed something, I've benefitted. Something good came from it. Winning the Currie Cup, making the Springbok team.
"I took the hard route purposely to keep on working. For me – and it's a message to the guys now also – you reap what you sow. You can't expect miracles if you didn't prepare your lands."
The road less travelled is a constant theme is Smith's narrative. It has taken him now to Glasgow and the Warriors, the "guys" he has inherited as coach. The 50-year-old spent much of his childhood on his grandparents' farm in the Free State and if we're reaching for agricultural metaphors, Glasgow have rather gone to seed these past few years.
Smith finds a squad harrowed by the grizzly end to their season; wounding defeats in South Africa, France and Edinburgh that left them eighth in the URC table and out of the Champions Cup running for the first time in 16 years. Then the heinous 76-14 obliteration at Leinster in the quarterfinals that did for Danny Wilson. A fanbase disillusioned as its team stumbles and the lustre of yesteryear, the 2015 Pro12 title and the swashbuckling teams of Sean Lineen, Gregor Townsend and Dave Rennie, fades.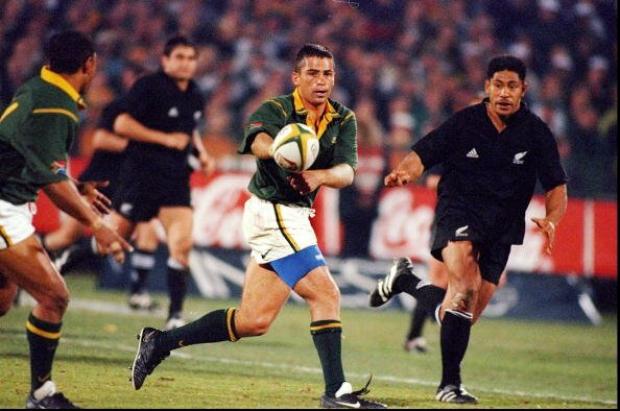 "I hope we take the motivation out of last season and then forget about that baggage," Smith says. "We don't want to walk around like we've got a backpack full of rocks. We want to get rid of that.
"Do the players care? Yes. It's clear they care. They care for Glasgow, for the product, for the club. That's the one attitude I've picked up here. They want to be better; they are determined to rectify where they've let people down."
As a coach, Smith has never done things the easy way. If his CV has not driven Glasgow folk dizzy with excitement, it is because he has preferred to take tougher roles in places where he feels a meaningful personal connection. He has opted for projects over plum gigs. He has never chased the gilded offices of the game's top clubs. In fact, he has never actually applied for a job. There's a certain nobility to his path; the people of the Free State, his beloved home province, and of Italy, where he has spent eight years of his rugby life, are special to him.
Back in South Africa, he took the Cheetahs from nowhere to the Currie Cup title on a shoestring. He broke down in tears during the post-match press conference. That was in 2016. Smith and the Cheetahs won the competition again three years later. He coached them in Super Rugby and in the inaugural Pro14, losing half a squad to bigger teams with more money every pre-season. Before that, he made Benetton, where he used to play, a credible outfit in the old Pro12. Rassie Erasmus was keen to have him as part of his Springbok regime in 2018 after a period of acting as backline assistant. Bigger unions tried to lure him away too. Smith chose Bloemfontein, home, and the Cheetahs.
For the past three years, he has been in Italy; the first two as national coach; the latter upstairs leading the high-performance department. He bled a great swathe of the young Italians who scalped Wales back in March, put a raft of good technical people in place, and leaves Italian rugby in much better shape than he found it.
"Sometimes I do ask myself, why do I always take the bigger challenge? But I prefer it. There is always reward.
"My idea is always to influence other people's lives and see if I can't make it better for them. Sometimes I do ask myself, why do I always take the bigger challenge? But I prefer it. There is always reward, win or lose. Seeing that player getting better. Seeing them get opportunities.
"The Cheetahs had a very small budget, which makes a huge difference. We didn't have Springboks when I came in, and we went from none to five after the first year. Then Ox Nche and Joseph Dweba came out of the next group. The theme I left there was the breeding ground of opportunity. We knew we'd have guys for a short time – 13 left to go overseas after my first year – and we couldn't compete financially, but we'd try to give them opportunities.
"In Italy, I had to unearth new talent and start a building process. I picked 13 Under-21s for the 2021 Six Nations.
"My theme is to develop and give back to the game as much as I can. Here, the challenge is a bit different, there are a lot of internationals and accomplished young guys who have been in the circuit quite a bit already. We don't necessarily have to carry the underdog tag."
When Glasgow picked up the phone, Smith was compelled by the opportunity to get out of the office and back on the paddock. His teams have always played adventurous rugby and Glasgow fans demand entertainment. The limp attack that plagued Warriors towards the end of last season soured many of them against Wilson.
Rather sensibly, and partially out of respect for his predecessor, Smith has decreed that his Glasgow blueprint and ideas about where they went wrong recently are not up for public discussion. But you can bet his team will play.
He does not envisage personnel changes to the squad or coaching staff either, although they look a little light at 10, where Ross Thompson carries a heavy burden, and short of a rugged, bombastic ball-carrier in the pack.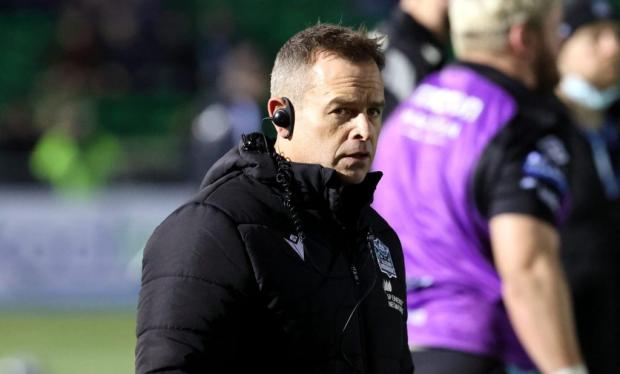 Danny Wilson lost his job as Glasgow head coach after his team were thrashed by Leinster. (Photo by PA)
"I would rather surprise people – let them think they know how I will think," Smith says. "Especially if there's a bit of scepticism.
"[Expansive rugby] is a little part of my DNA and definitely part of Glasgow's. It's not risk rugby, it's responsibility. We'll be smart about it, but I don't think I can hide the fact everyone here is excited to have a skill-set to play in all areas of the game.
"There is an opportunity to bring a little bit of change to make them creative again, eager to get out on the park. I remind myself as a player, it can become dark and gloomy, you see this only as work. And it's not – it's an opportunity to do something you enjoy and are blessed to do.
"There are different sporting personalities on the field. One of them, we call a knight: somebody who cares, but doesn't want to disappoint. Sometimes the more they are criticised, the less they want to disappoint. It's very important they express themselves out there. That's going to be my job: to ask them to choose to do things, not choose not to do them."
Scotstoun has lost some of its verve with the decline of its team and the steady departure of star names. Glasgow are in danger of losing their identity, forged by scintillating rugby and Friday nights in a raucous venue. A bright Scottish core laced with foreign elan. Back then, when the Finn Russells and Stuart Hoggs and Leone Nakarawas were around, the place shuddered and pulsed. It became a brilliantly hostile stage where European heavyweights were habitually dispatched. Bath, Leinster, Exeter, Leicester Tigers, Racing 92, Lyon and Montpellier all fetched up and each was taken care of. A huge task for Smith is reconnecting the players to their people.
"It's not about being a big-name coach; what difference does it make? Yeah, you get a little more respect, but you've still got to go out there and do it.
"I want them to be their team with the way we play. It's not just about moving the ball around; I hope people from the outside will be able to see the commitment and effort from the players in trying to represent them.
"At the same time, developing new heroes, guys who can influence people off the field more than they do on it. The type of person they are, the fathers they will be, the way they talk and work with people away from the game.
"To become a point of reference for other people is very important. It's not just being rugby players and representing, but also making a difference to other people's lives away from the game."
This rhetoric only goes so far. Smith knows that. He knows, too, there are fans not entirely convinced by his credentials. Often the same supporters who reckon Glasgow in their current state could attract Scott Robertson or Stuart Lancaster or any of rugby's Galacticos a year out from a World Cup. The word "underwhelming" has been used to describe his appointment.
Smith gets all this, but his sentimentality about heroes and inspiration and excitement is underpinned by steel. He is at ease with what he has achieved and confident about what he can bring to the table.
"Rugby has been my life, so what people think or say doesn't change anything. It's not the first time somebody's had their doubts. It's not about being a big-name coach; what difference does it make? Yeah, you get a little more respect, but you've still got to go out there and do it.
"The benefits I have are that I've coached European rugby, I've chosen to work with teams building them up. My philosophy is different, maybe, than somebody who shot for the top jobs straight away. I could have stayed on with South Africa when I was assistant coach there in 2018. There were often opportunities to move within South Africa. But I always believed things would happen at the right time. In that regard, I don't mind scepticism, because that, you can change. And I hope not to disappoint those who believed in me."
Glasgow need work, but they are not a project in the same sense as Smith's previous teams. They are not impoverished like the Cheetahs, for one. They are not professional newbies as Benetton were. They are not an international squad, like Italy, grappling with myriad structural constraints and an ageing player pool. The obstacles of the past have shaped Smith's approach to his Glasgow future.
"I'm a young coach in what I'm doing," he says. "For the amount of experience I have, I'm only 50.
"I've worked with other cultures – Maoris, Tongans, Fijians, Portuguese, Scottish guys, Irish guys. I had indigenous Australians, South Africans, Italians and Argentinians. I've coached everything, with the different cultures to marry that. Remember, it's not about good players, but a good team. That's what people sometimes underestimate.
"The point I'm trying to make is that this is a completely different challenge. I chose to go to the hard places, so now I've learned, by 50, all these lessons. I wanted to try things, I wanted to get it wrong. I tried a lot of things through lack of experience or ability. I had to make different plans. That made me a different coach.
"For now, the main thing is to see how innovative and out of the ordinary we can be without losing the main objective. Winning is important, but so is the 'how'."
All those lessons and all that experience, from the farm to the classroom, the pitch to the coaches' box, the training ground to the boardroom, will be drawn upon. For this is a seminal year for coach and club.
By Jamie Lyall, @RugbyPass+