Has Eddie Jones overplayed his hand?
OPINION: The concept of achievement in sport is not always easy to quantify.
Sometimes a good display still ends in defeat due to the quality of the opposition – think of New Zealand's cricket team being beaten by Ben Stokes in the last World Cup Final.
But most of the time results are as good a measure of success as any which is why we often hear: "Judge me at the end of the season," or "Save your questions until after the next World Cup."
We also have to factor in the quality of available resources – for example, Italy is extremely unlikely to win the Six Nations given the Azzurri's player and coaching pool and available funding. On this basis, most of us would accept that a good team being better than the sum of its individual parts is a good barometer.
Taking either of these yardsticks it is surely impossible to argue either that England currently has a high-performing, successful rugby team or that head coach Eddie Jones is doing a good job.
Indeed, in the light of his team's latest defeat by Scotland and underwhelming win over injury-hit Wales, the RFU will come under huge pressure to replace Jones and his latest group of coaches ASAP if they also lose to Ireland and France over the next three weeks.
English rugby's governing body has in recent times made financial cuts left, right and centre across the semi-pro and amateur games due to the effects of COVID plus its poorer than expected commercial performance following huge investment in Twickenham. As a result, community coaches have been made redundant in numbers while clubs in England's second-tier – the Championship – now receive almost no financial support.
However, it seems Team England has dodged the worst of these cut-backs and remains so colossally well-funded that it is £20,000 per game players and superbly resourced coaching team are the envy of the world. Whatever Jones wants by way of staff, facilities and back-up he gets – yet his team remains an under-performing mish-mash with no clear identity, medium-term strategy or definable game-plan.
Meanwhile, the veteran Aussie mixes waspish put-downs of anyone daring to question his methods with cheeky chap quips and cryptic comments hinting at a wider masterplan which will, at some undefined point in the future, miraculously become obvious to us all. Or put another way he's creating a giant smokescreen.
How long is too long?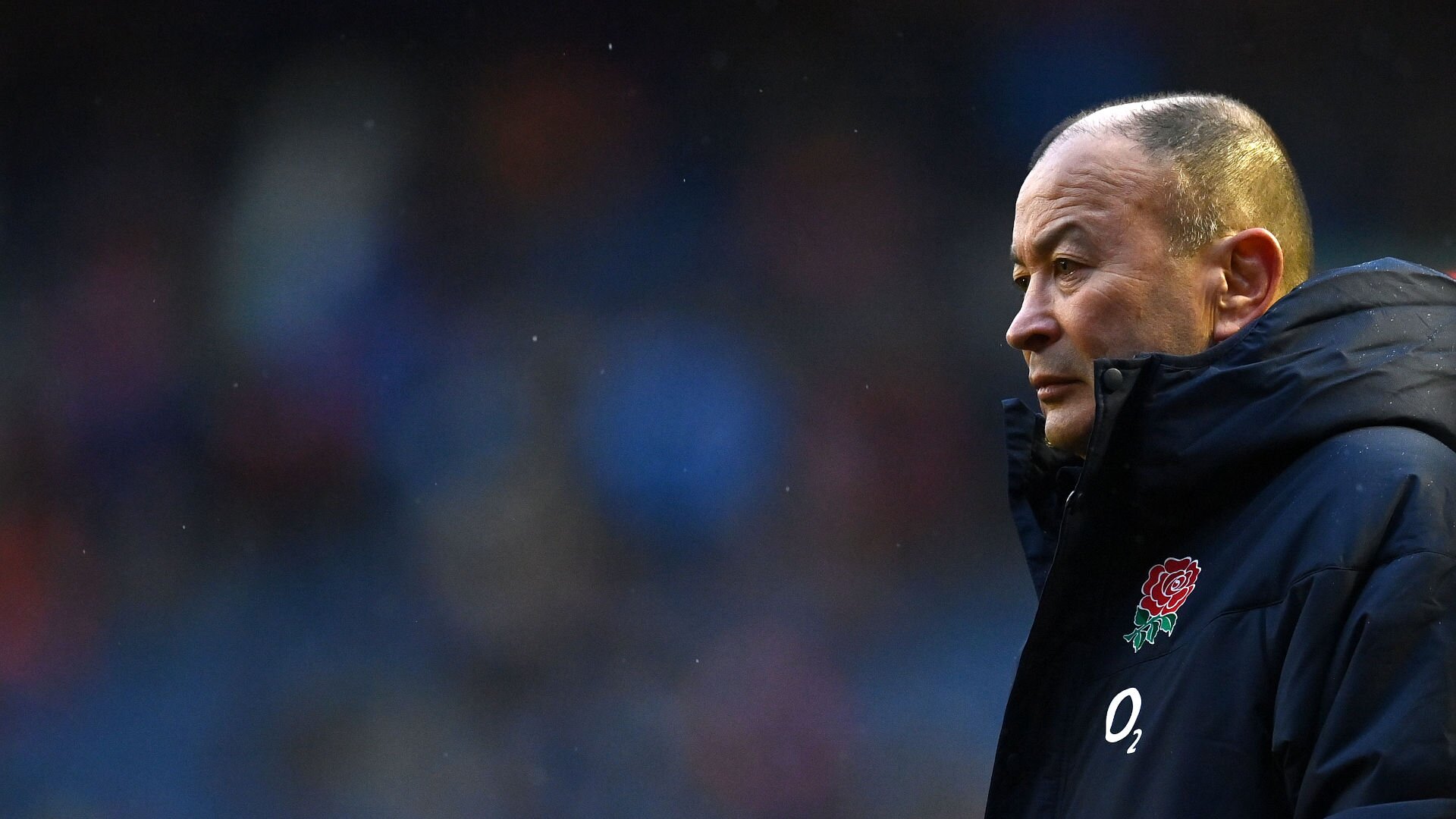 Eddie Jones (Photo by Dan Mullan – RFU/The RFU Collection via Getty Images)
If he survives to the end of France 2023 Eddie Jones will have been at the helm of the England team for two complete World Cup cycles spanning eight years.
To give this some context, England's longest-serving head coach Sir Clive Woodward did seven years during which his team won a World Cup. In cricket, only Duncan Fletcher survived eight years, as did Sir Bobby Robson who led England's football team between 1982 and 90. This means only Sir Alf Ramsey whose 12 years included the historic 1966 triumph, will by 2023 have lasted longer at the helm of a national team in one of our three main sports than the 62-year-old former hooker.
Three knighthoods suggest – quite rightly – that these men are legends of English sport. If Jones survives and his team wins the next World Cup he may well join them, but that looks a million miles away at the moment when even mentioning his name in the same breath seems ludicrous.
It is easy to forget that Jones' time at the helm began with a long unbeaten run which delivered a Grand Slam in 2016 and a championship in 2017. England also finished as runners-up in Japan 2019, but since then very little has gone well. Eight years is a long time for players and coaches to listen to one boss and it seems that the honeymoon period is well and truly over.
A Marmite Boss
While few would admit it publicly, not all of England's players are especially fond of Jones' approach. To a degree this will always be the case with any boss, but the physical toll his sessions take on bodies already exposed to large amounts of competitive rugby is significant and injuries in England camp seem to occur with worrying frequency.
The sizeable turnover of coaching and support staff is perhaps a more concerning feature of Jones' time as England boss. Some seriously capable coaches including Premiership-topping Steve Borthwick have left the camp to pursue opportunities in the club game and in all honesty, the profile of Jones' backroom team is as a result a fair bit lower than – for example – the French set-up.
It's Eddie's way or the highway for players and support staff, and since he carries the can this is far from unreasonable. However, when the environment created is just too difficult for those working within it, even when they have the skills to make a significant contribution, the wider England team is suffering so surely something has to give?
What is Jones' England trying to achieve?
Good question. Successive England teams in the professional era have featured a big nasty pack whose scrummage and driving maul present a major threat. Jones started his time in charge by saying he wanted to harness these traditional strengths but has then consistently contradicted this through an approach to selection which places little value on front five forwards whose core strengths are in the tight.
Kyle Sinckler now has 50 caps, but as his late call-up for last year's Lions tour showed he is not considered a tighthead whose scrummaging stands up to the kind of scrutiny imposed by world-class opponents from the likes of South Africa, France or Ireland.
Veteran Harlequin Joe Marler is probably England's best scrummager, but he has rarely been first choice at loosehead where the handling and running skills of Mako Vunipola then Ellis Genge have condemned him to long spells on the bench.
Similarly, at hooker, the traditional throwing and scrummaging skills which Jamie George brings have for the last year slipped behind Luke Cowan-Dickie's all-court running game, while the next cab off the rank is Newcastle's Jamie Blamire whose main claim to fame to date is a 50-metre sprint to the Twickenham try-line.
A row further back in the scrum a similar trend is found. From Bakkies Botha to Martin Johnson to Alun Wyn Jones to Eben Etzebeth a grafting, hard man has featured in most successful teams. Dave Attwood would have been this player in many people's England team for the majority of the Jones era, but instead he has usually opted for the mobility brought by the likes of Joe Launchbury, George Kruis and Courtney Lawes alongside Maro Itoje.
#REACTION: Any preferential treatment from the referee was payback for last year says @EnglandRugby coach Eddie Jones.
🗣️ "We're not going to complain about it, just as we didn't complain last year."#rugby #news https://t.co/2CRC9GtTDc

— rugby365.com (@rugby365com) February 28, 2022
He favours an attacking wide game then?
Not really; in fact, England went through 2020/21 kicking the cover off the ball at every opportunity despite not doing it especially well.
Thankfully, after finishing fifth in the Six Nations they resumed playing with ball in hand with a shadow side last summer and that approach has since continued. But with Jonny May on the sidelines Jones rarely selects players like Newcastle's Adam Radwan who offers genuine pace in the outside channels.
Instead he opts for the safer defensive option provided by the all-round footballing talents of Jack Nowell, Elliot Daly and Max Malins – all extremely competent but very similar players. The contrast between the pace and power provided in the round three Six Nations clash by Wales' Alex Cuthbert and Josh Adams and England's wingers – who always seemed to step inside and look for support rather than seeking space – was vivid.
The Manu Conundrum
Manu Tuilagi won his first cap more than a decade ago under Martin Johnson's coaching regime. Since 2011 he has delivered some memorable displays in an England shirt in between long spells on the sidelines recuperating from injury.
England with Tuilagi are an entirely different proposition, but he has only appeared in around a third of the 120-odd games his country have played since he won his first cap.
Using available data to make informed decisions is one of the key facets of any management role in any walk of life, and by now most of us have concluded that England cannot build their playing structures around their best player since he is so rarely available. However, Jones appears to cling to the hope that a brave new world including an always-fit Tuilagi is just around the corner and that a midfield sticking plaster will do the job in the meantime.
Therefore, instead of seeking an (admittedly lesser) alternative that plays in a similar style, enables England to get over the gainline and develop a consistent style of play that suits them, he shifts the team's entire attacking approach by naming a second flyhalf alongside a Jeremy Guscott/Clive Woodward style no.13 with plenty of pace but not much power.
On this basis, Gloucester's Mark Atkinson has followed Worcester's Ollie Lawrence as the latest Tuilagi lookalike to be discarded following a handful of caps while England fans despair as the likes of Owen Farrell, Henry Slade and Elliot Daly are asked to truck the ball up against 16 or 17 stone opponents.
Does he select on form?
Perhaps the most exasperating aspect of Jones' tenure is the scattergun approach to selection in which form is seemingly an irrelevance.
The Times' Will Kelleher has maintained records which showed that prior to the current Six Nations Jones had called up 174 players of whom 73 never actually went on to win a cap. Jones seemingly delights in calling up unproven youngsters only to then discard them and move on to the next relative unknown, perhaps in the hope of unearthing another unpolished diamond like Tom Curry or Freddie Steward.
Yet in a bizarrely contradictory approach, when the 'old guard' of Dylan Hartley, Chris Robshaw et al who he inherited from Stuart Lancaster were losing form, replacing them with the likes of George and Sam Underhill who were tearing up the Premiership was an exercise undertaken with extreme reluctance.
Similarly, as England floundered in 2020/21 the Vunipolas, Farrell, Daly and sundry other misfiring Saracens whose club rugby was then being played in the Championship were never in danger of losing their places to the likes of Marcus Smith and Alex Dombrandt who at the time were spearheading Harlequins' charge to the Premiership title.
Perhaps the extreme case is that of Wasps scrum half Dan Robson, whose consistent brilliance for his club never got him beyond the fringes of Jones' England. Had the now 30-year-old replaced Ben Youngs, whose form has seen plenty of peaks and troughs, five years ago he would have 50 caps by now and potentially be a star of the international game.
To cap off this eclectic approach to selection, even with England desperate for ball-carrying heft in the absence of Tuilagi it would seem there is no way back for Billy or Mako Vunipola even though both have put in some eye-catching performances for Sarries since being left out.
What happens next?
Based on what we have seen so far this year, despite beating South Africa in November, England is a long way behind Ireland and France and will start both their remaining Six Nations games as underdogs.
The Twickenham factor and French Grand Slam nerves may come to their aid, but in all honesty, if England were to meet either team on neutral ground in a World Cup quarter-final they would currently lose a lot more often than they won.
And should England suffer two defeats and finish fourth or fifth in this year's table something major has to change if they are to deliver any kind of challenge at next year's World Cup – and this could well start with the appointment of a new head coach.
With a World Cup around 18 months away any sacking needs to happen immediately, since Jones' replacement – who could be an interim with a contract to the end of France 2023 – must be given as much time as possible to make a mark.
However – and the irony of this will not be lost on those rugby nations who look at Jones' resources with envious eyes – given their financial position we have to question if the RFU can afford to part company with their head coach and his support team.
The other relevant factor is who would succeed him? Warren Gatland would be top of many wish lists while Borthwick, Pat Lam and Rob Baxter would doubtless have their supporters.
By Paul Smith, RugbyPass