Joe Marler likes insulting players' mothers
FULL VERDICT: Referencing other players' mothers was Joe Marler's 'go-to' line when sledging opponents – the Harlequins prop told an RFU disciplinary committee last week.
England prop Marler was banned for two weeks, with a further four weeks suspended, following comments he made towards Bristol loose forward Jake Heenan in a Premiership game a week ago.
The comments triggered a major scuffle as Heenan mother's is currently ill in hospital.
Marler accepted an RFU charge of conduct prejudicial to the game for the comments about Heenan's mother, although he did not accept they amounted to verbal abuse.
The full written judgement on his case has now been published on England Rugby's website.
Marler told the panel that he only learned that Heenan's mother was battling cancer after he was substituted later in the game.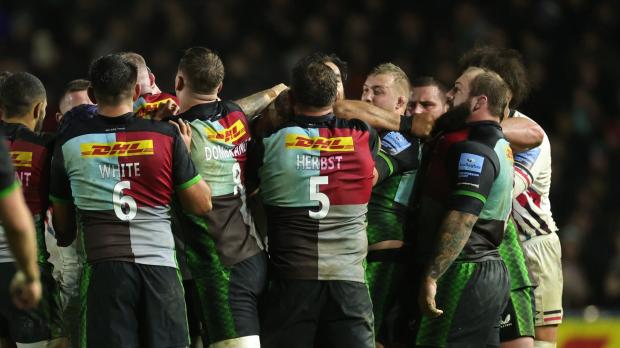 The panel also heard in evidence what was said and that Heenan claimed that Marler had kicked him at a ruck immediately preceding the exchange of words between the pair.
Jake Heenan: "Brother, you're better than that, eh?"
Joe Marler: "I'm not your brother."
Heenan: inaudible
Marler: "I'm clearly not your brother am I."
Heenan: "You're better than that mate."
Marler: "There's no way I'm from the same mother as you mate, your mum's a ****ing whore."
Heenan does not react towards Marler at that stage. Heenan speaks to the referee [Karl Dickson] briefly; the referee nods his head to one side and says "let's go boys". In his written evidence to the panel, Dickson says; "During the incident, I was made aware of a comment potentially said by Marler to Heenan. I never actually heard the comment and therefore couldn't act on it."
As the players in the scrum begin to bind, [Bristol prop Yann Thomas] leans towards Marler and says, "What the **** did you just say to him?"
Marler responds: "I called his mum a whore."
Thomas walks towards the Marler. It is at that stage that Heenan took hold of Marler's shirt around the Marler's chest area. A fracas then ensues, with various players pushing, shoving and grabbing one another. During the course of the fracas, Heenan can be heard referencing that his mother is currently unwell, in hospital.
Speaking on the incident at the panel, Heenan said: 'that after being kicked on the ground by Joe Marler the ruck before the scrum, I told him to cut it out at the next scrum. After a few words he said 'you're mother is a whore' I left it the first time, then he repeated it a second time to which I looked at Karl Dickson. Karl looked at me, looked away and shook his head. When I realized that he wasn't going to intervene I lost my head."
Marler said he did feel did not think his comment met the threshold of abuse, because "it was not based on race, sexual orientation, ethnicity or the like" but "accepted entirely" that his actions were contrary to good sportsmanship
The loosehead said that he had made "that mistake" back in 2016, referencing a previous disciplinary case in which he had verbally abused Samson Lee in the Six Nations match England v Wales on 12 March, 2016.
Marler said his comment was 'a poor, unimaginative attempt to 'sledge' another player', part of what he said was 'commonplace winding each other up that goes on.'
The 32-year-old British & Irish Lions prop said that he was not intending to abuse Heenan but that he went for a "mum joke" because the New Zealander mentioned the word "brother". In "a candid response" to a panel member's question, the Marler accepted that this was a normal "go-to line" if he was trying to get a reaction when "sledging or ribbing" an opponent player.
Marler said that "he would not do so in the future, not least because "you never know what is going on in other people's family."
The England prop said he did not know that Heenan's mother was unwell at the time, and only learned of that after the event during a (private) exchange of messages with Heenan via WhatsApp. He said that he realised he had overstepped the mark when he was substituted; during a discussion with other players on the bench, Marler said Heenan's reaction was bigger than the reaction he would normally expect from such a comment and he was concerned he may have "put [his] foot in it".
Marler said he sought out Heenan after the match but could not find him. He said that he later sought the Bristol openside's mobile number from the Bristol Captain so that he could apologise personally.
Heenan had accepted the apology.
Marler accepted a charge under RFU Rule 5.12 for conduct prejudicial to the game.
Some eyebrows were raised last week due to the fact that the latter four week of his six suspension were suspended. The RFU explained: "This offence was charged as a breach of RFU Rule 5.12 and, as such, the panel was not bound by the sanctions table. The panel had regard to the entry points for breaches of Law 9.12 (acts of verbal abuse) and of Law 9.27 (acts contrary to good sportsmanship). The panel also had regard to the player's poor disciplinary record (as an aggravating feature), and to the fact he had accepted the charge and had apologised to the Bristol player (as mitigating factors)."
"In all the circumstances of the case, the panel concluded that a ban of six weeks was proportionate but that it was also appropriate to suspend part of that sanction. The panel found that an immediate ban of two weeks should be imposed and that the remaining four-week ban should be suspended until the end of the 2023/24 season (and may be activated should the player commit a similar offence).
"The panel require the player to give a presentation to a local club or school, and to a Premiership academy, on the core values of the game."
@RugbyPass