ANALYSIS: The tactic that backfired on England
SPOTLIGHT: England's first Test under new coach Steve Borthwick against Scotland showed glimpses of a new identity and some promise in terms of reviving an attack that had become threadbare.
But it was a couple of lapses on defence born from a desire to pressure Scotland flyhalf Finn Russell which ultimately backfired for the home side.
Two Scottish tries can be traced back to England chasing Russell and leaving the defensive line compromised.
This tactic to go after the Scotland No.10 was visible early.
On an early clearing kick 10 minutes in Farrell took the opportunity to bury the Scottish flyhalf with a strong tackle, signalling England's intent to try and throw the playmaker off his game with extra attention.
Minutes later Scotland had their first attacking lineout opportunity and Farrell went after him again, costing his side a line break that ultimately led to Scotland's first try.
Scotland ran a clever deliberate overthrow from the line-out to captain Jamie Ritchie (No.6) who linked with Russell (No.10) out the back behind a block runner.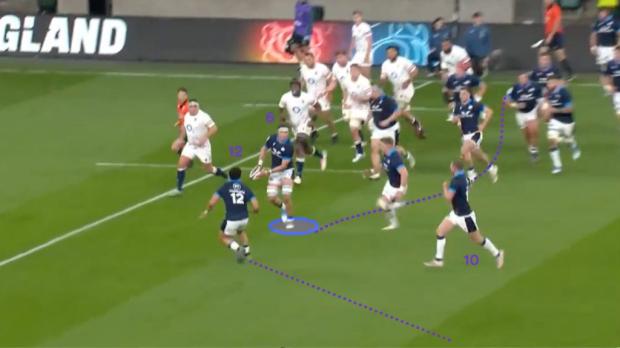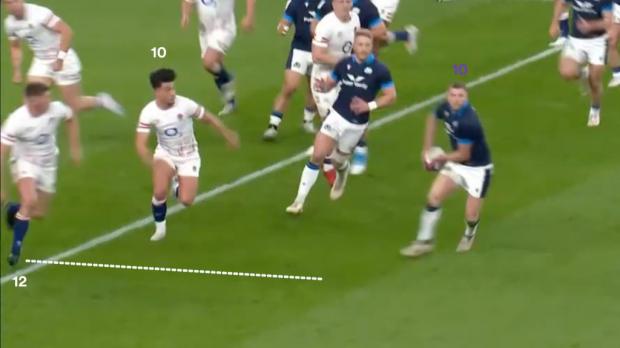 Smith (No.10) had the threat of Russell (No.10) covered but Farrell (No.12), insistent on making another big hit on the Scotland No 10, broke rank and went after him.
It was fairly unnecessary with the ball well gone by the time Farrell got there.
Scotland's centre Huw Jones (No.13) had flashbacks to 2018 with a gargantuan hole to burst through.
England midfield's defence was very poor on this occasion, not up to Test match standard.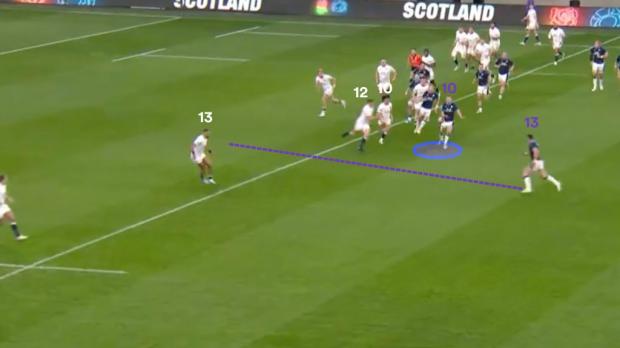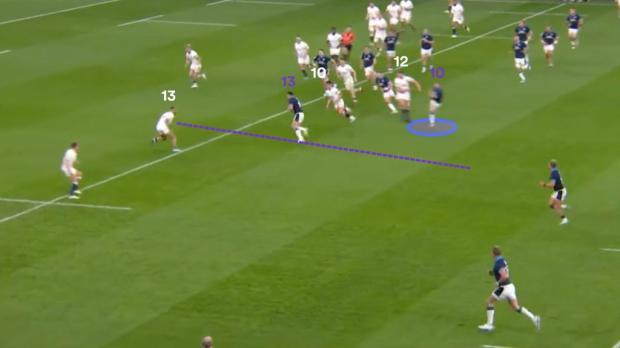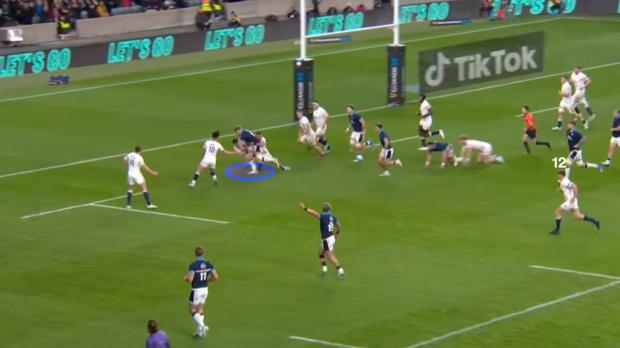 Scotland took play down to the five-metre line after Jones was able to find an offload. England's defence was reeling after one phase.
Under penalty advantage, Scotland used a grubber kick in behind the line to find open space.
It was a great play by the Scotland midfield combination of Tuipulotu and Jones, made possible by the costly initial decision by Farrell to go after Russell and concede a line break.
He just LOVES playing against England.@HRFJones with yet another Calcutta Cup try ✅#GuinnessSixNations | #ENGvSCO pic.twitter.com/lWv7d4eScN

— Guinness Six Nations (@SixNationsRugby) February 4, 2023

Marchant wasn't able to do much to prevent Jones' pursuit of the kick with a feeble attempt to slow him down, having had to track across after instructions from Farrell.
The England No.13 was originally on the opposite side of the ruck but was told to fold by his captain. This was just one example of England's confusion around the policy of splitting the midfielders on either side of the ruck.
Later in the second half, it came back to bite them a second time.
On Scotland's next big attacking possession, Farrell essentially made the same decision to rush out of the line and belt Russell as Scotland went wide from a line-out play.
The big tackle by Farrell forced a key turnover, but unfortunately for England, their exit kick found Duhan van der Merwe who tore them to pieces with one of the all-time great individual tries.
Big tackle from Farrell on Russell forcing the turnover. Big effort from Russell to get back around moments later and let Farrell know about his non-attempt on the Van der Merwe try. #ENGSCO pic.twitter.com/Vk9TlNcx4u

— Ben Smith (@bensmithrugby) February 5, 2023
The issue with Farrell's original tackle, despite coming up with a big play, was that it was arguably Marchant's assignment.
England looked to show Scotland the sideline with a drift defence and it was Marchant's man, but Farrell again broke rank and went after him.
Farrell overriding his teammate is not ideal for England's midfield combination to build chemistry and trust.
The pair of England defenders that Van der Merwe ran through on the kick return were Farrell and Marchant.
The England captain didn't make an attempt after some light shading by Scotland. By all accounts Van der Merwe was Farrell's assignment, he started the return on Farrell's inside shoulder and bounced outside him.
There were big communication issues between the two centres not helped by Farrell's vendetta against Finn Russell. Was Marchant deferring to Farrell after just being slighted by him?
The try scored by Scotland's scrumhalf Ben White in the second half to spark the Scotland comeback included more breakdowns in communication by England's playmakers.
Scotland played wide to the left touchline after a scrum and have a ruck roughly five metres infield.
England's backline was crowded around the breakdown, the backfield pendulum swung too far around while naturally the inside backs drifted across tracking the ball.
England's defence then falls apart with self-inflicted communication issues and poor decision-making.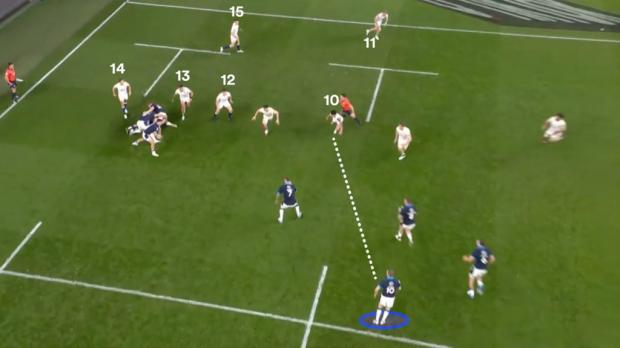 On the next phase, Marcus Smith (No.10) chased after Russell just to shove him in the back after the pass, while Owen Farrell (No.12) decided to reset the opposite edge and abandon the short side.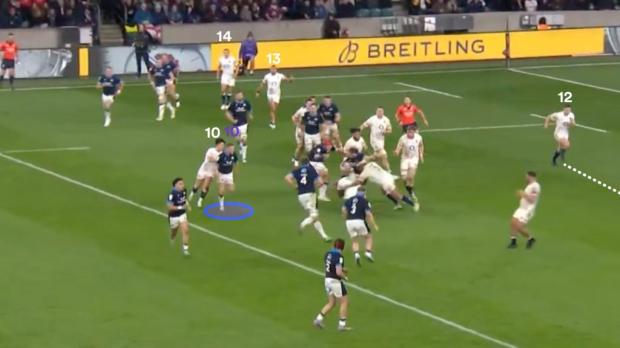 Farrell (No.12) took himself out of the line to sprint across the backfield toward the opposite edge. Smith (No.10) also decided to join Farrell.
Marchant (No.13) tried to raise the alarm and called for help with too many England players going to the open side.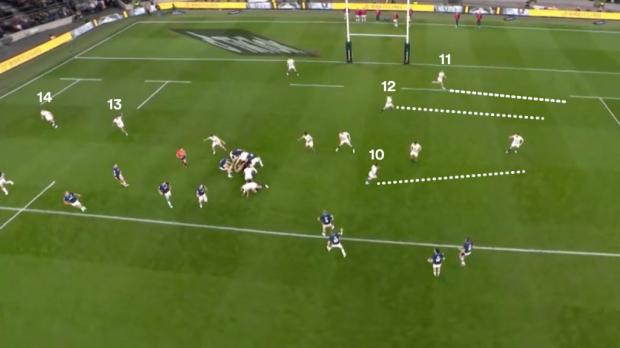 The aerial shot illustrates just how disjointed England's defence was.
Only one of Smith or Farrell needed to potentially be on the opposite edge, but both went. Neither is in a position to be of use as the ball is recycled.
Ben White slipped the one-on-one tackle of Ben Curry and scampered through exactly where Smith and Farrell were defending.
Had one of them remained they would have likely been able to clean up Curry's miss.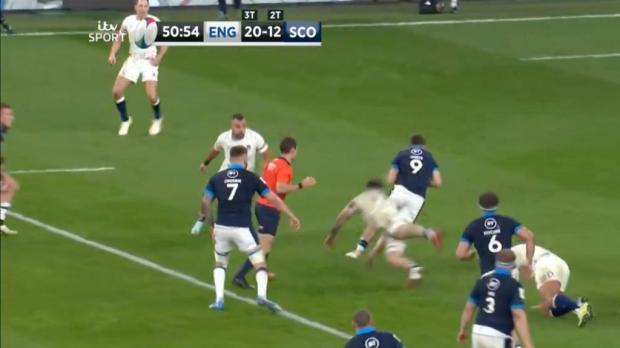 In the final quarter, Scotland knew they had England on the ropes.
The exit strategy became to run it from deep to take advantage of the cooked forward pack. They nearly scored when Kyle Steyn broke free down the right hand side and found Stuart Hogg backing up inside.
They did score through Duhan van der Merwe after going sideline-to-sideline, with Russell pulling the strings to stretch England past their limits.
If England had preserved a bigger lead it may not have mattered that they ran out of puff. The defensive breakdowns on two occasions, Jones' try and White's try, were largely avoidable.
Marchant may end up paying the price for his defensive showing but he wasn't helped by his captain.
Although Farrell may have let his side down on more than one occasion on defence it was his showing on attack which offered hope that a rebuild under Borthwick will reap results soon.
There were clear schemes to get England's two most prominent ball carriers involved, No .8 Alex Dombrandt and Ellis Genge, while Owen Farrell's role at No.12 more resembled the old 10-12 axis with George Ford.
Farrell's involvement at first receiver throughout the match was more pronounced, particularly on the 10-phase passage of attack that led to Max Malins' second try. He took over on every phase and directed proceedings.
The Farrell-led attack had no issue winning the gain line and grinding down Scotland until the opportunity presented for Malins on the edge with tidy work from forwards Genge and Lewis Ludlam to make the most of the opportunity.
When Marcus Smith was involved as first receiver England didn't quite find the same rewards, with Smith opting to plug the corners in behind with kicks when nothing eventuated.
When the England captain is playing as a de facto 10 and Smith is used as a floating runner in behind, England look their best. Farrell knew when to flatten up more and play flatter.
Smith's best play came off a pullback pass when he identified the space in behind Scotland's winger Steyn and executed the chip over the top for Malins to dive on.
It wasn't a fine-tuned machine but definite strides were made on attack, the side only managed eight tries in last year's entire campaign and scored three in the 29-23 loss.
It was the decision to chase after Finn Russell that really cost England as Scotland made them pay for doing so.
@RugbyPass