SA's best players are 'gathering dust' under Nienaber and Erasmus
OPINION: Across the two Tests against the All Blacks the style that South Africa played with was more like Springbok sides of old, moving away from the diabolical kicking game used at times last year.
Even though the first Test game plan at Mbombela Stadium was still about applying kick pressure and keeping a vice grip on the All Blacks, the kicking was balanced and the Boks ran their attack plans when offered the opportunity.
While one dimensional in nature by running forwards continuously around the corner, the test of physicality and brute force was far better to watch than hoisting box kicks on the edge of the opposition 22, as seen in the 100th Test between the two sides last year.
A conservative game plan can still incorporate some possession-based rugby that respects the ball and attempt to find a way over, which is what they did in Mbombela.
It is not the cup of tea preferred in New Zealand and won't win any awards for style, but there are degrees of difference between that and the obsessive box kicking which saw historically low levels of passing in 2021.
The All Blacks adjusted their game plan for the second Test, they sent loose forwards out to the fringes more often and boldly decided to run it out of their 22 metre zone quite a lot to stretch the Boks at altitude.
It caught South Africa off-guard who were dealing with the loss of right wing Jesse Kriel early and the rejigged backline could not contain them.
As the home side had to chase the game down 0-15, we saw them play their most expansive style which added to a great Test match spectacle.
We saw the best of midfielder Lukhanyo Am who had an unbelievable performance with ball-in-hand out on the wing after Kriel's concussion.
But here is the kicker, had the Springboks been up 9-0 on penalties, the world would likely not have seen Am's talent unleashed at Ellis Park.
That kind of game seems to only come out of the Boks when they have to run down a side, not by choice.
The ball would not have moved as much, instead it would've been kicked away for territory.
They likely would not have run a strike play for Am to score in the corner before half-time, instead they would have tried to milk penalties from the scrum to add more points from the tee.
That is their prerogative of course, but don't expect adulation for playing that way, particularly in this part of the world.
With all the attacking talent you could ask for in the world, there is no doubt that more could be achieved with the talent at South Africa's disposal, but they don't want to use them.
Damian Willemse is one of the brightest young talents in the game, a genuine superstar prospect with incredible footwork who has added some polish to his game.
After a throwing error from Samisoni Taukei'aho, South Africa have the All Blacks on the ropes and Willemse kicks in behind to the corner.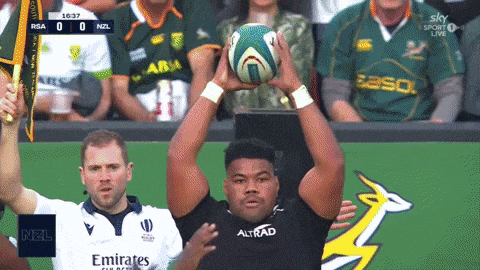 It's a low risk play, asking the All Blacks to clean up the ball from a pressure situation, but with two players outside him and space to run, more was on offer.
Willemse is likely delivering what the coaches want in this situation. But if the Springboks hold onto the ball, they probably end up near the All Blacks five-metre line with possession anyway, hot on attack with the chance to score the first try.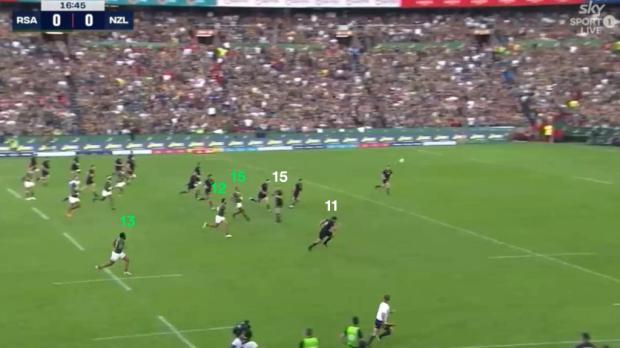 Along with Willemse there are attacking threats like Cheslin Kolbe, Am, and Makazole Mapimpi out wide.
These are some of the best strike weapons going around that for most of the time, sit in the garage gathering dust.
Can you imagine a football side with a Ronaldo or Messi-type player adopting a park-the-bus game plan? They would be ridiculed.
The Stormers with Willemse, Manie Libbok, discarded Springbok Warrick Gelant and breakthrough wing Leolin Zas had the most potent backline in the United Rugby Championship and put teams to bed early.
Not to mention the explosive loosies like Hacjivah Dayimani and Evan Roos who are not even in the picture for the Springboks.
Listen, if this is what you want to do with the national team, great for everyone else. Leave all that firepower on the sidelines and pick out-of-form older players who play overseas because you're loyal and they know the systems.
Let's revisit history with the 2007 Springbok side that got a World Cup victory without having to face any other top four team.
They had a great two or three year run afterward but by 2011 they were getting a bit long in the tooth in some positions.
They were slaughtered in the Tri-Nations that year and picked up their lone win in their last round of action against an experimental All Black side.
Once the World Cup rolled around, Bryce Lawrence copped the blame for the quarterfinal loss but that Springbok side wasn't going anywhere that year.
They weren't good enough to comprehensively beat the Wallabies beyond doubt. They were too old and David Pocock in his prime destroyed them for the third time that year. Three strikes you're out.
The All Blacks made similar gambles in 2019, with loyalty and sentiment blinding them from potential shortcomings. There was a growing belief that every legend was worthy of the Richie McCaw and Dan Carter retirement swan song after 2015.
They came up short to a younger, more physical England side, who they refused to play much in the lead-up years and maybe they should have a few times. Even now NZR think largely the same team that couldn't do it in 2019 will do the job in 2023 four years later, four years older.
Most of New Zealand have very low expectations for next year's tournament and it this stage, a semifinal berth would be a pleasant surprise.
If you don't learn from history you are destined to repeat it. Have the Springboks learnt from the 2011 repeat effort? It seems perhaps not.
We've been waiting for the Boks to back up their World Cup win with a dominant stretch to match the hubris that has been spewing out of the Republic about this team ever since captain Siya Kolisi lifted the trophy. It simply hasn't happened.
They've put together win streaks of three or more just twice. They are 58 percent against tier one teams with 10 wins from 17 Tests.
They dodged the 2020 season, got the Lions series and then fumbled the Rugby Championship, the Nelson Mandela Plate and still haven't touched the Freedom Cup. Ninth-ranked Wales got a Test win on South African soil for the first time in history.
They blow Test matches with experimental teams and that's okay because it's not the World Cup. It's all part of the 'plan' we hear.
They just had the down-and-out All Blacks ready to bury and got down-trowed. We see what France and Ireland have done and South Africa just simply hasn't been able to produce that kind of consistency.
Well, there is no cakewalk schedule waiting in France next year. Plan all you want but you won't get to play Japan in a quarterfinal as a sweet reward for beating Italy in the pool stages.
You will get France, the best team in the world currently, or the All Blacks side that just ran rampant at Ellis Park in the quarterfinals.
You won't be as fresh at the pointy end of the tournament if you get past either of them.
When Rassie Erasmus took over he rightly proclaimed that World Cups aren't won by three tries. However, they also aren't typically won by teams trying to repeat with older forward packs or by teams that don't evolve.
Just ask the All Blacks of 1991 or 2019. The 2015 side that did complete the job had an all-time great back row but still had eight different starters from the previous World Cup final.
Joe Moody, Dane Coles, Brodie Retallick, Aaron Smith, Julian Savea, Nehe Milner-Skudder and Ben Smith were all new starting players, while Dan Carter was back at first five-eighth. It was a completely different team to the 2011 one.
Had Bongi Mbonambi and Cheslin Kolbe been healthy and available, no doubt the Springboks side at Ellis Park last Saturday would have essentially been the 2019 World Cup final team with just three newcomers to the 23: Ox Nche, Damian Willemse and Jasper Wiese.
My dear South African rugby geniuses and aficionados, there is still time for you to realise where you are headed but from here it looks like you are on the way for a 2011 repeat.
If you get the All Blacks in a quarterfinal you should be favoured to win, but you better hope that the Ellis Park side doesn't show up.
By Ben Smith, @RugbyPass