Why World Rugby was wrong to snub Kolisi
ANALYSIS BY BEN SMITH: World Rugby's Player of the Year award is one of the highest honours in the game, yet the snubs in 2021 call into question the validity of how this process is done.
The two test sides with the best records this year, New Zealand (12-2) and South Africa (8-4), have no players nominated. France and Australia, with no Lions tour duties, didn't win any tournament trophies this year and have substandard records.
England have been poor, and while Maro Itoje is a world-class player, it's hard to fathom how this shortlist doesn't include the likes of Jordie Barrett, Ardie Savea or Siya Kolisi.
The game's governing body did everyone a disservice last year by not recognising the efforts of those that made substantial efforts to resume Test rugby by not holding the awards in 2020.
Last year deserved to have its own crop of winners and nominations, and Antoine Dupont would have been the front runner to capture the Player of the Year award, more so than this year, and also Itoje as he was phenomenal as England captured the Six Nations and the Nations Cup.
A player like All Blacks rookie Caleb Clarke would also surely would have earned a nomination for the Breakthrough Player of the Year.
Now the list for 2021 looks like they are trying to make-up for not rewarding some of last year's work, particularly for the World Player of the Year award.
The way the Springboks play is unappealing, but they grind out wins, and one man, Siya Kolisi, has been at the forefront of that in a year where his form is probably at the best it's ever been.
The South African loose forward unit is responsible for most of their wins this year. You could almost say they single-handedly keep them in games. Their back row strength is above any other side in the world.
When teams get it wrong tactically and direct play into the path of Kolisi, Kwagga Smith, Duane Vermeulen, the results are disastrous.
Games against the Springboks have been lost when idealistic game plans fail to account for the strength they have there, as illustrated by the All Blacks in their clash with South Africa in Townsville earlier this year.
New Zealand's plans in their 19-17 win were incredibly naive as they sent David Havili into the clutches of South Africa's back row where Kolisi and co continually turned the ball over.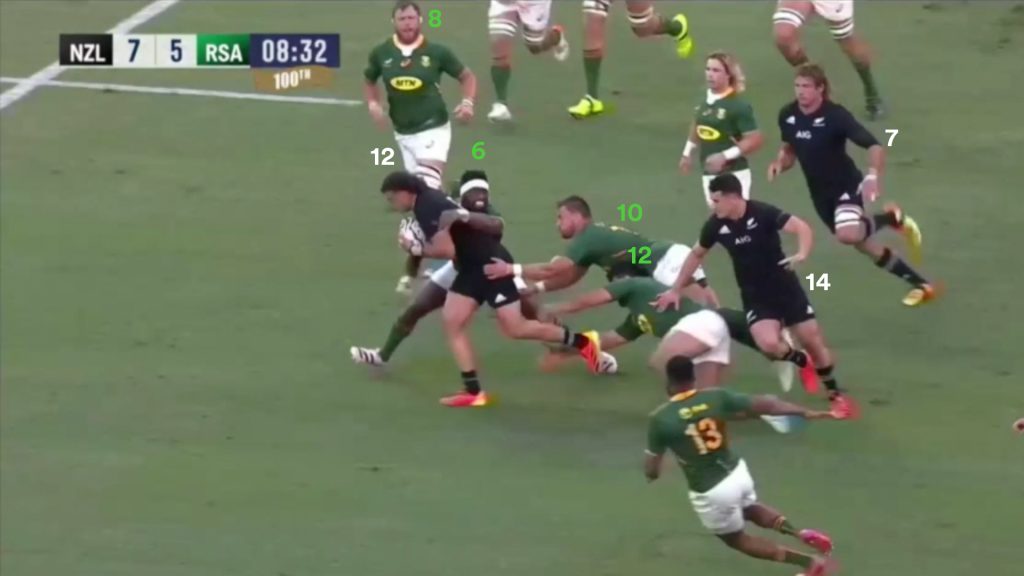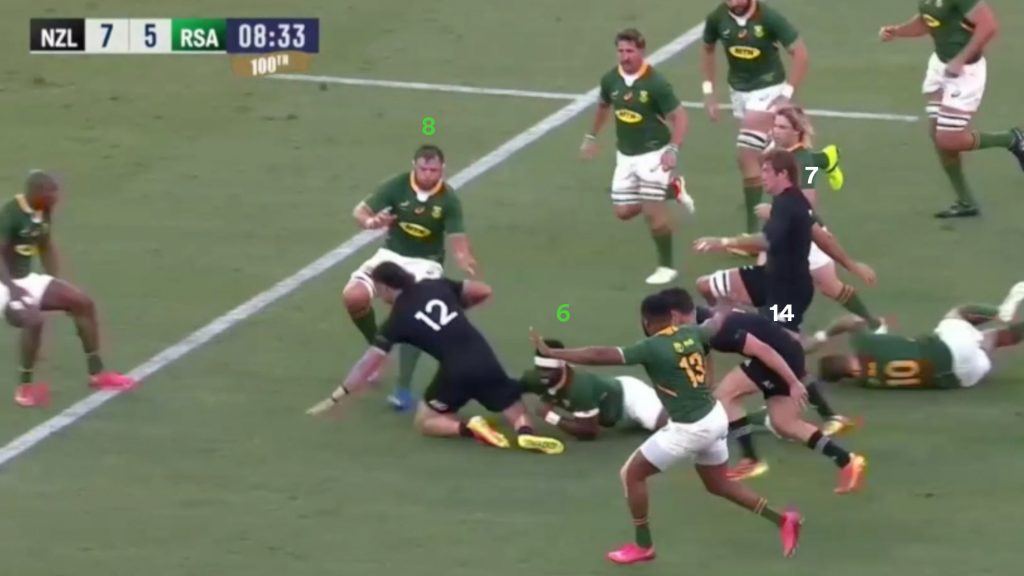 After Havili punched through Handre Pollard and Damian de Allende, Kolisi made a desperate tackle to bring the Kiwi midfielder down in an isolated position where Vermeulen pounced and won a penalty on first phase on the edge of their own 22.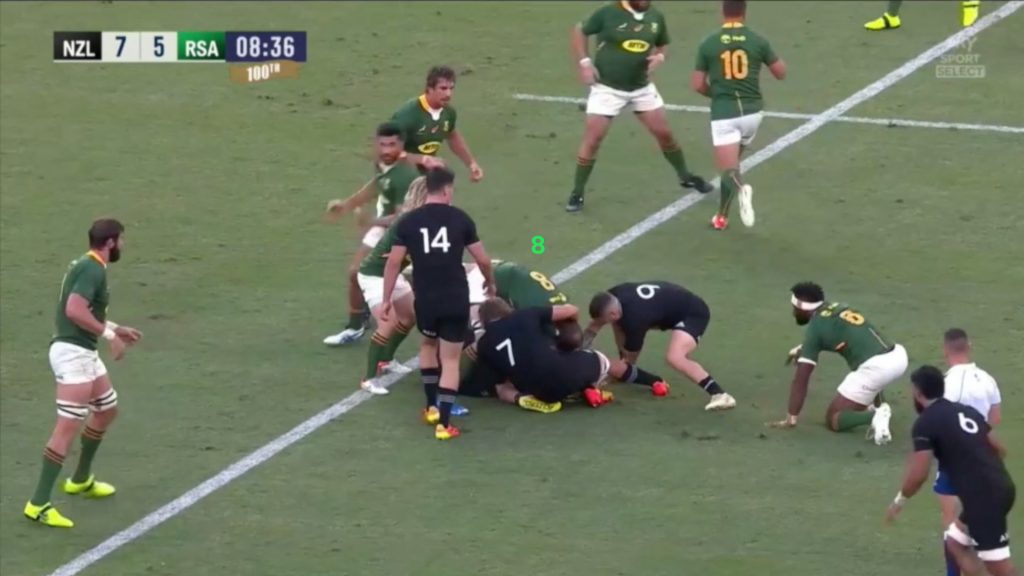 These kinds of plays by Kolisi continually repel opposition in prime attacking field position and prevent them from not only scoring tries, but the chance to accumulate threes.
In the example below, Kolisi and Smith attacked an isolated Havili deep inside their own half. Kolisi drew the attention of the cleaners, leaving Smith to take possession.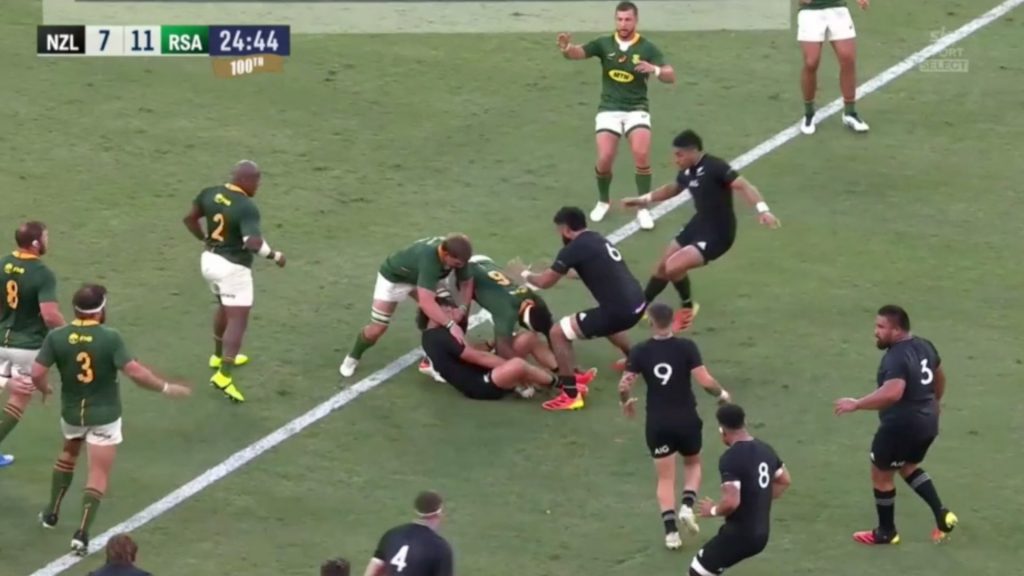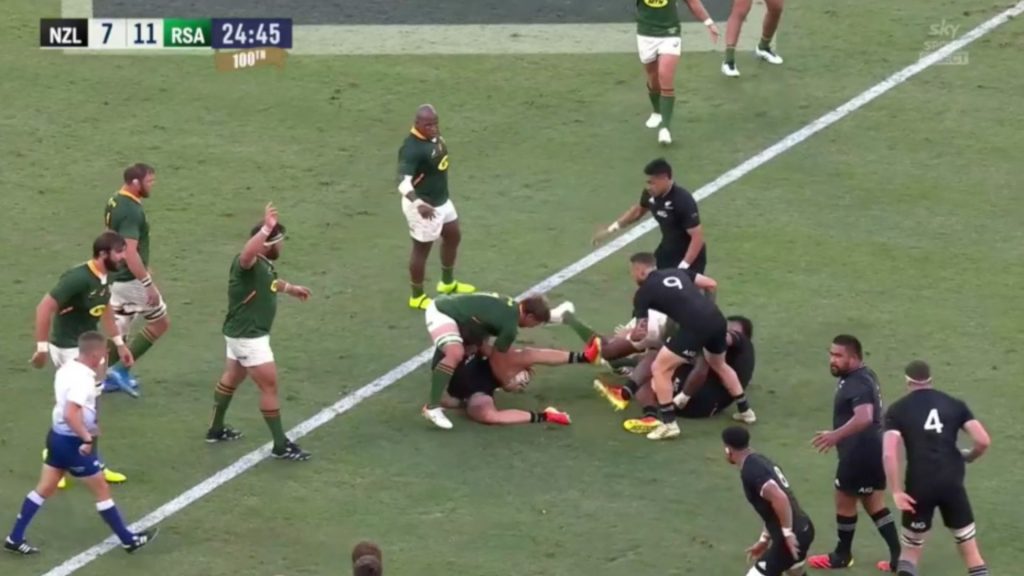 These snapshots highlight how, in a losing side, Kolisi was one of the best players on the pitch by helping keep his team in the contest. In the first half, he affected four turnovers, three of which were won inside or around his own team's 22.
Two were directly Kolisi's own doing, a strong counter-ruck to push the New Zealanders off their own ball and a jarring tackle on Will Jordan to dislodge it in contact. The other two were indirect assists on poor set-piece plans by the All Blacks.
Fast-forward more than a month later, and Wales were similarly punished for failing to heed the lessons of the All Blacks from the Rugby Championship.
They ran launch patterns that targeted the South African midfield, using undersized players like Josh Adams outside of playmaker Dan Biggar, and then tried to carry around the corner into their back row.
They used the same base play they had against the All Blacks the week prior, with three options outside of Biggar (10), with Nick Tompkins (12) sliding out the back, leaving two flat short options (Adams at 11 and Jonathan Davies at 13) for Biggar.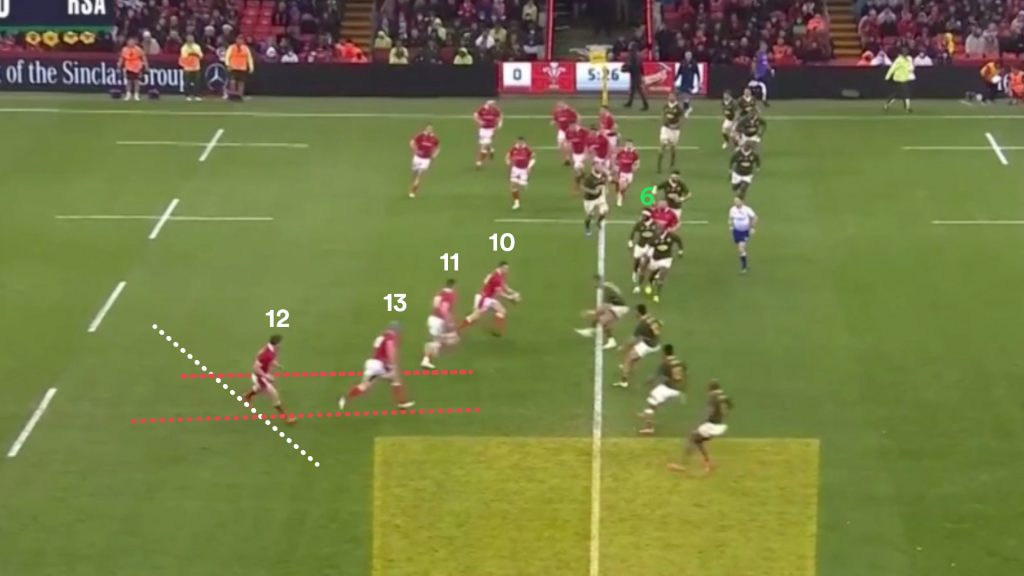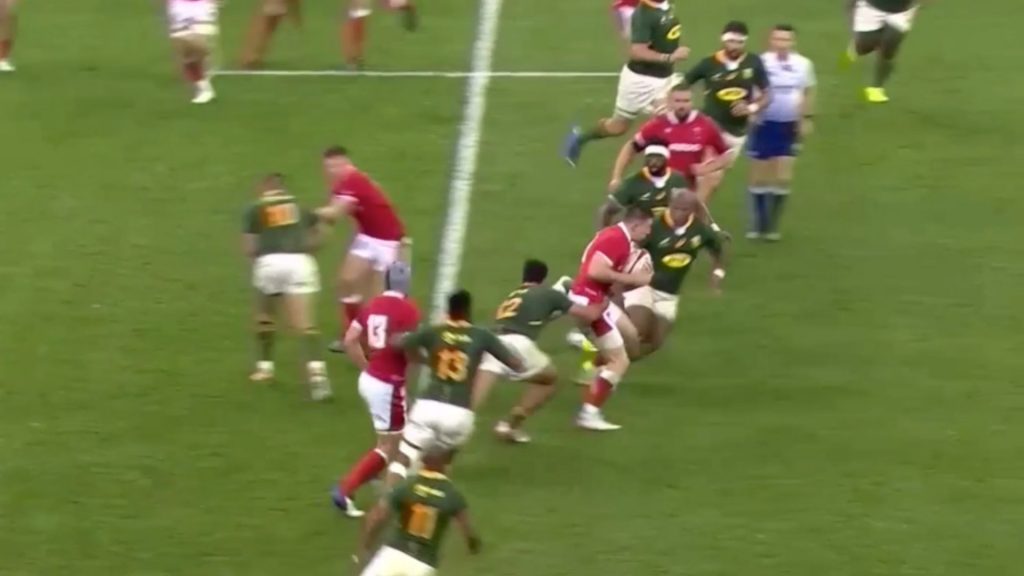 After Adams' first phase carry above, Wales ran a pod around the corner where Kolisi dominated Taine Basham (7), causing the Welsh to almost lose the ball from a counter-ruck once Basham was brought down.
They tried to set up patterns with a third phase switch strike, but playing the first two phases this way is always a huge risk against the Springboks.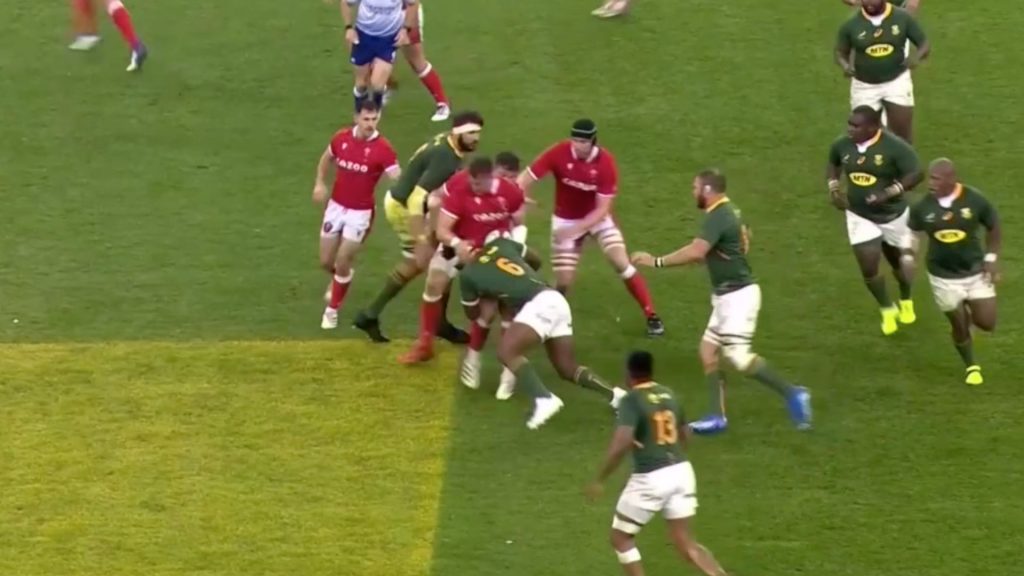 If you want to run into the Springboks' midfield on first phase and into their back row on the second, then you deserve to get what's coming.
Wales didn't do their homework and squandered countless attacking opportunities with these ill-thought out plans.
It seemed as though no team considered how the Wallabies went about dissecting this defence as they instead stubbornly persisted with their own rigid ideas, just like the All Blacks.
In another second phase carry around the corner in this attacking opportunity early in the first half, Welsh prop Rhys Carre was manhandled by Kolisi and driven sideways into the arms of Smith.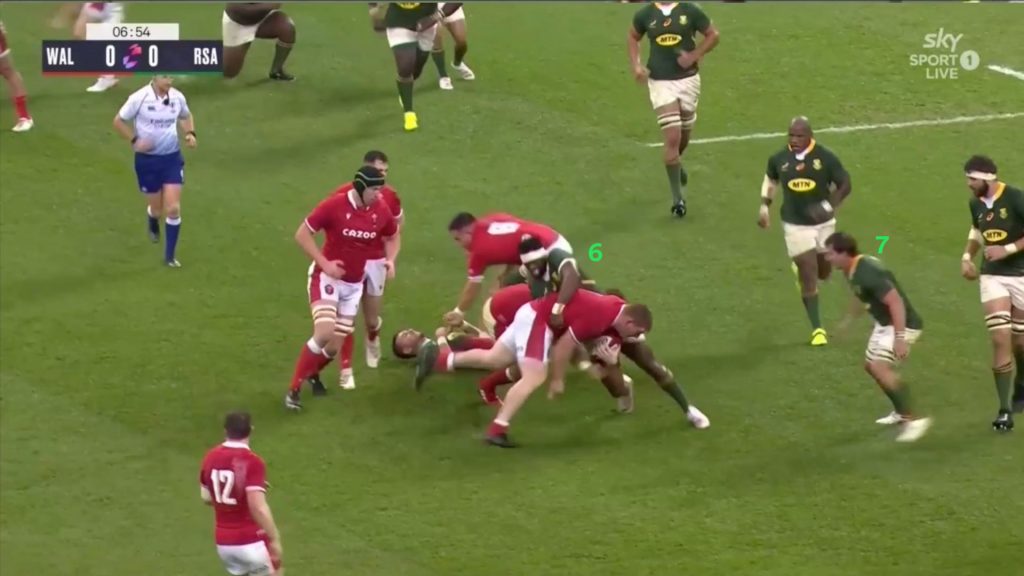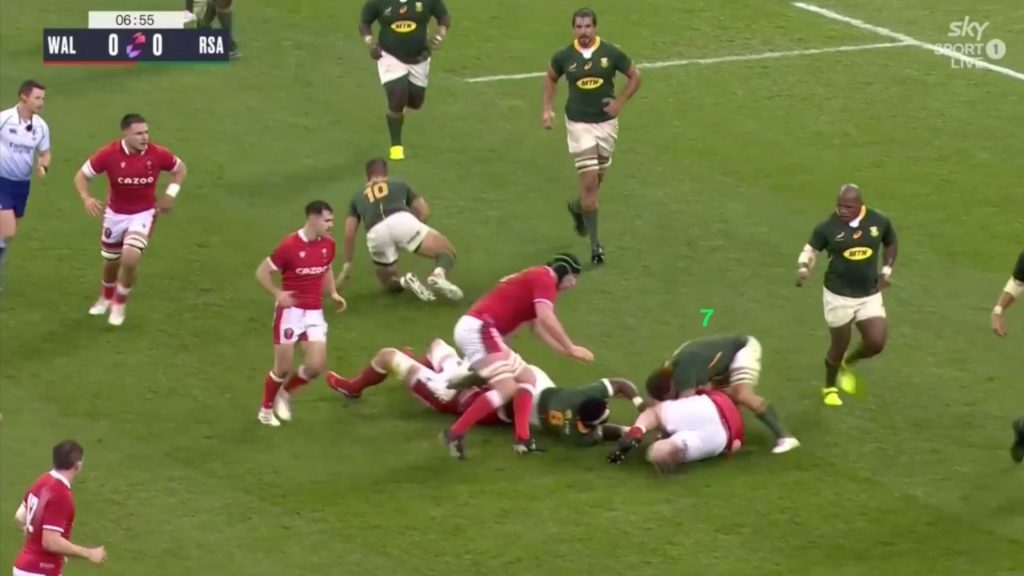 Smith got the steal, but it was the work of Kolisi that gave his fellow loose forward an easy chance for a pilfer. Wales came away from the 22 visit with zero points, which happened on multiple occasions.
It was when Wales went off-script that they looked most threatening, finally hitting the Springboks where they have be proven to be weakest all year: on the edge.
A big cutout pass from Tompkins (12) gave Louis Rees-Zammit (14) the chance to score in the corner.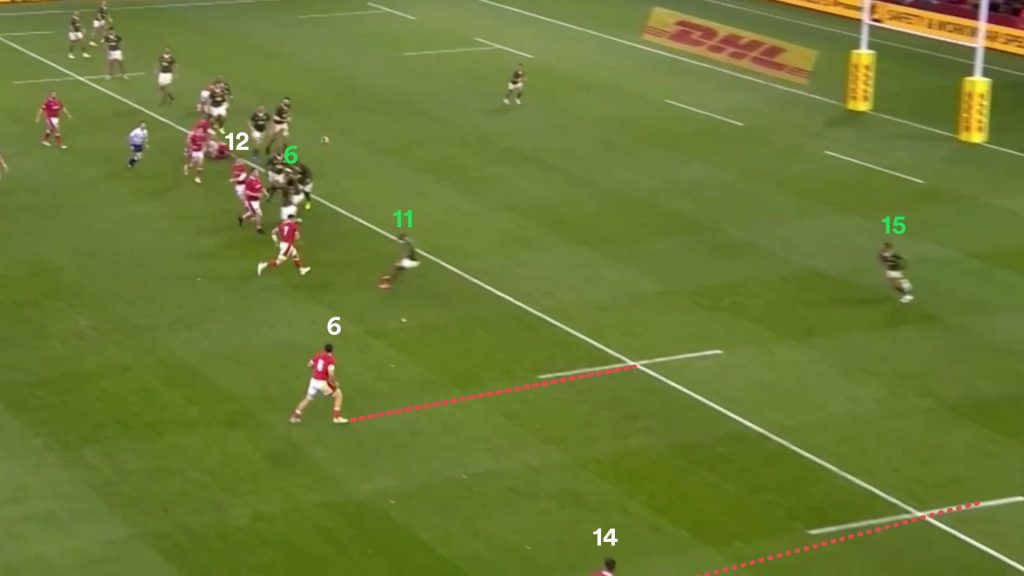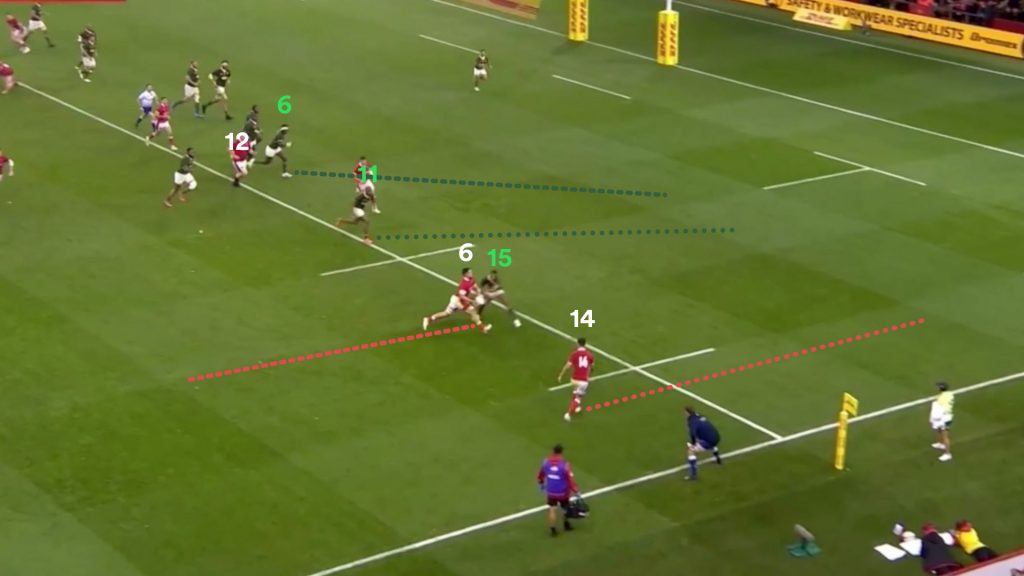 But it's this play that sums up why Kolisi needed to be nominated as the World Player of the Year.
Without his effort to scramble, Rees-Zammit would have scored after cutting inside Makazole Mapimpi (11), plain and simple.
Herschel Jantjies wouldn't have stopped the Welsh wing from there, but Kolisi made the save in a match where he won two ruck turnovers – including a critical one right on halftime that led to a penalty goal to close the gap to 12-9 – along with 11 tackles.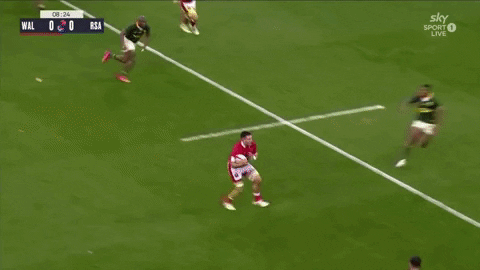 His try-saving tackle on Rees-Zammit is not a one-off occurrence. He has been making plays like this all year, including perhaps the biggest play of the British and Irish Lions series in the second Test.
After the Springboks dropped the first Test, the do-or-die second Test was locked at 6-all when the Lions had a chance to score a few minutes from half-time.
A well-placed chip kick from Conor Murray found Robbie Henshaw, but the cover tackle from Kolisi prevented the Irish midfielder from getting the ball down.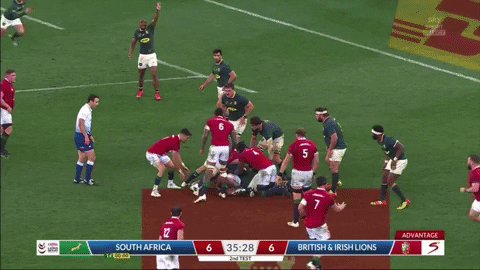 Kolisi started the play next to the ruck, and only desperation and hustle got him in a position to save what would have been a crucial try, and potentially the series.
The Lions may have played the second half differently had they had a seven-point buffer at the break, but they instead had to settle for a three-pointer.
As it turned out, the Springboks were the next to score a try, and they ran away with the game through penalties.
The Springbok captain has won 10 turnovers this year as part of a Springboks back row unit that has collectively nabbed 29.
Given where those turnovers have taken place and the tackles Kolisi has made, he has saved his side anywhere between 5-10 points per game, which, when you look at how South Africa wins games, has been absolutely vital.
The Springboks have scrapped their way through 2021 on the back of their back row, led by their captain Kolisi.
If the World Rugby Player of the Year is about recognising the best individual performers who have been invaluable to their team, Kolisi must be on the shortlist.
Michael Hooper has had a very good year and deserves nomination, but the nature of how the Wallabies season has played out bolsters the case of others.
Hooper was there before Quade Cooper and Samu Kerevi arrived, when the Wallabies' fortunes weren't so great against the All Blacks. With those two backs gone once again, they've now lost twice in a row to Scotland and England.
It's not clear who has been most important to the Wallabies turnaround, with Cooper and Kerevi adding weight to their cases and however excellent Kerevi has been, he has only played five tests.
It feels like Dupont and Itoje are there based on last year despite being world-class, but Savea or Barrett from New Zealand, in addition to Kolisi should also be candidates.
Sorry World Rugby, it looks like you have bungled this one, and it started when you failed to recognise the players for their work last year.
By Ben Smith, @RugbyPass