World Cup Ultimate XV: Fans and experts make their picks
SPOTLIGHT: As the World Cup approaches the play-off stages, perhaps now is a good time to have a stab at naming an all-time ultimate XV.
RugbyPass did just that – created the Ultimate XV player picker, which features curated lists of notable individuals across each position, who have represented their country in previous tournaments.
Some 80,000+ people voted and a selection of expert former players and pundits also made their selections.
In addition, they also selected the top coach, referee and the ultimate stadium.
The outcome was as surprising as it is entertaining!
Fans' Ultimate XV
After analysing the latest data from the picker (September 2023), here's who our fans think makes the line-up, according to the highest number of votes: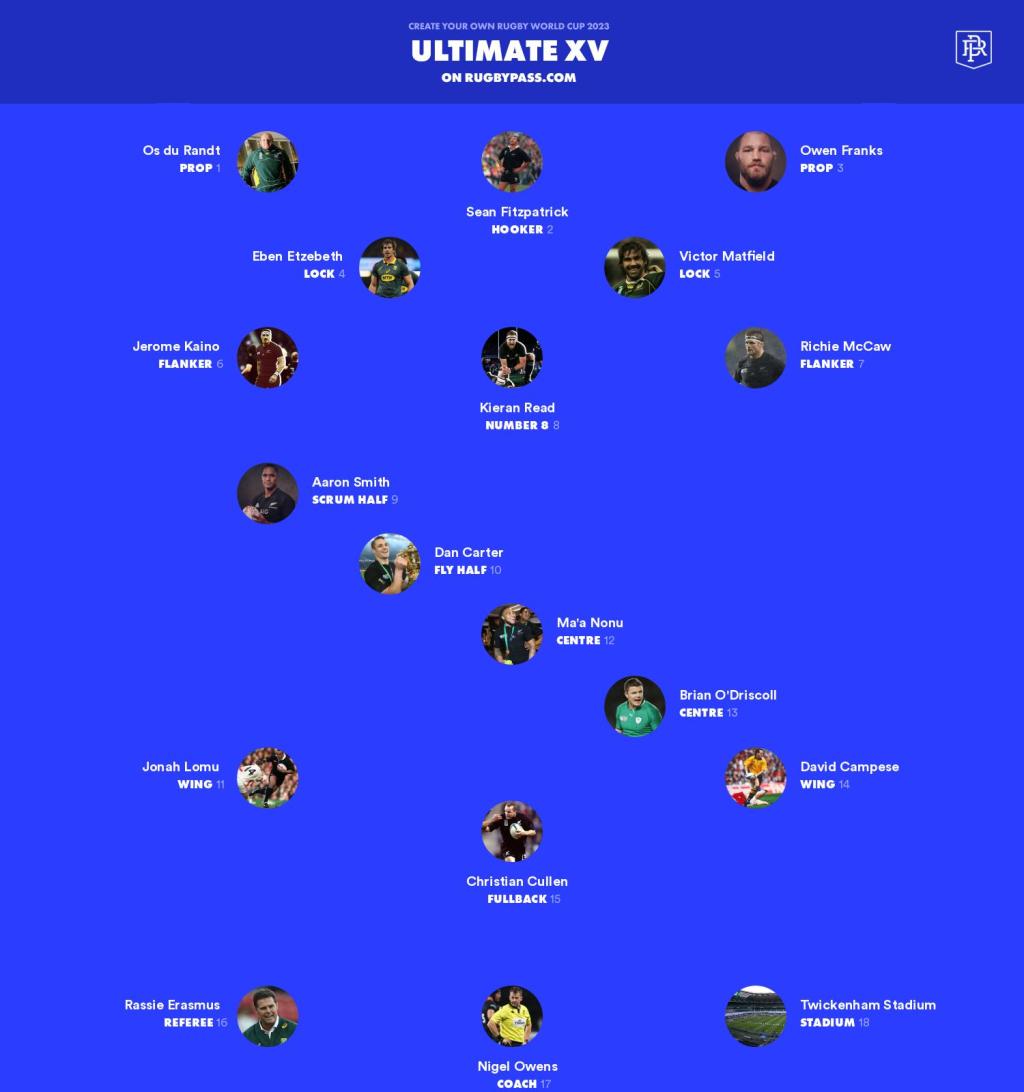 As you can see, this is dominated by players from the Southern Hemisphere and in particular those from nations who have lifted the Webb Ellis Cup on multiple occasions. The data has also shown it was an interesting mix of runaway winners and close calls between certain positions, so let's take a closer look at the results:
Loosehead Prop – Os du Randt, South Africa – 34% of the vote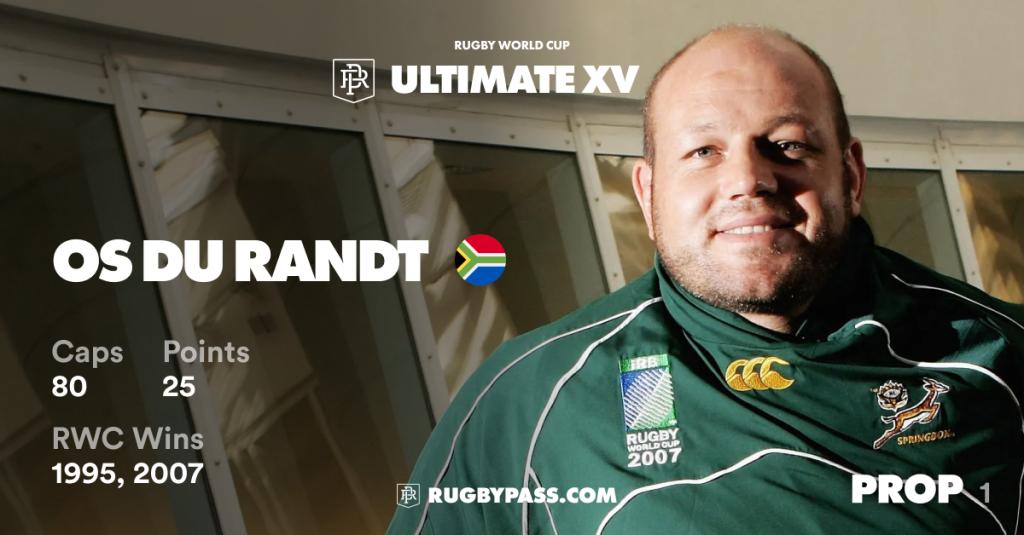 It might not come as a surprise to see this two-time Rugby World Cup winner, Springboks hero and literal giant of the game get the nod from fans here. An iconic and formidable force, Os du Randt was the runaway selection here with a huge 34% of our fans picking the Ox.
Another South African, Tendai Mtawarira – a.k.a. 'The Beast' – was the second most popular choice with 27% of the vote and skilful, double World Cup winning All Blacks prop, Tony Woodcock, was third with 15%.
Hooker – Sean Fitzpatrick, New Zealand – 24% of the vote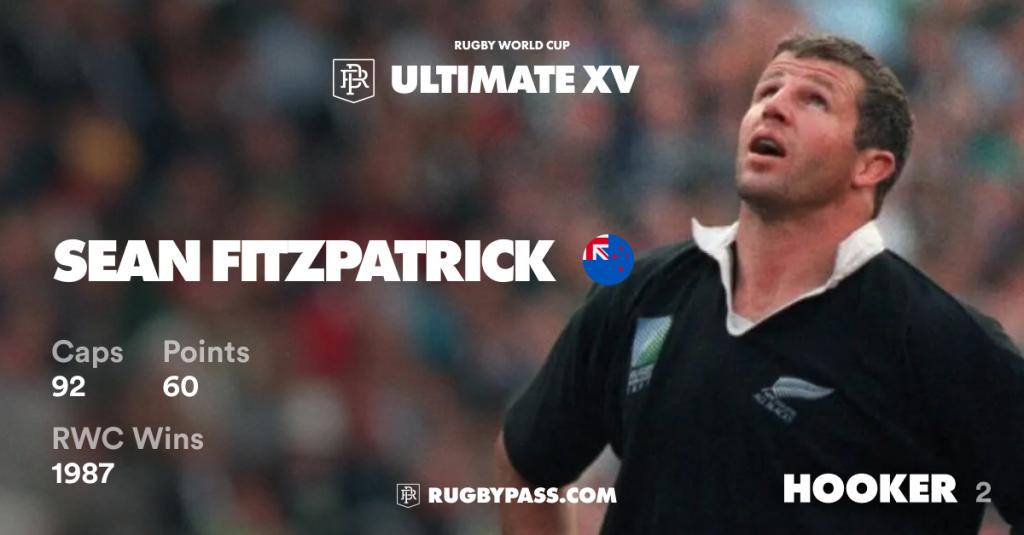 Widely regarded as one of the greatest All Blacks, a World Cup winner in 1987, and of course, an incredibly powerful hooker, Sean Fitzpatrick was the top choice here from 24% of our fans.
This was a close affair though, with South Africa's Bismarck du Plessis just behind him, receiving 22% of the vote and another All Black and 2015 Rugby World Cup winner Dane Coles getting 15%.
Tighthead Prop – Owen Franks, New Zealand – 30% of the vote
At tighthead prop, we have Owen Franks, who also won back-to-back World Cups in 2011 and 2015, respectively, with New Zealand. A talented and revered player, Franks was the choice of a notable 30% of our fans.
In second place was fellow New Zealander and game-changing prop, Carl Hayman with 21% of the vote, followed closely by 2019 World Cup winner, South Africa's Frans Malherbe (20%).
Lock – Eben Etzebeth, South Africa – 41% of the vote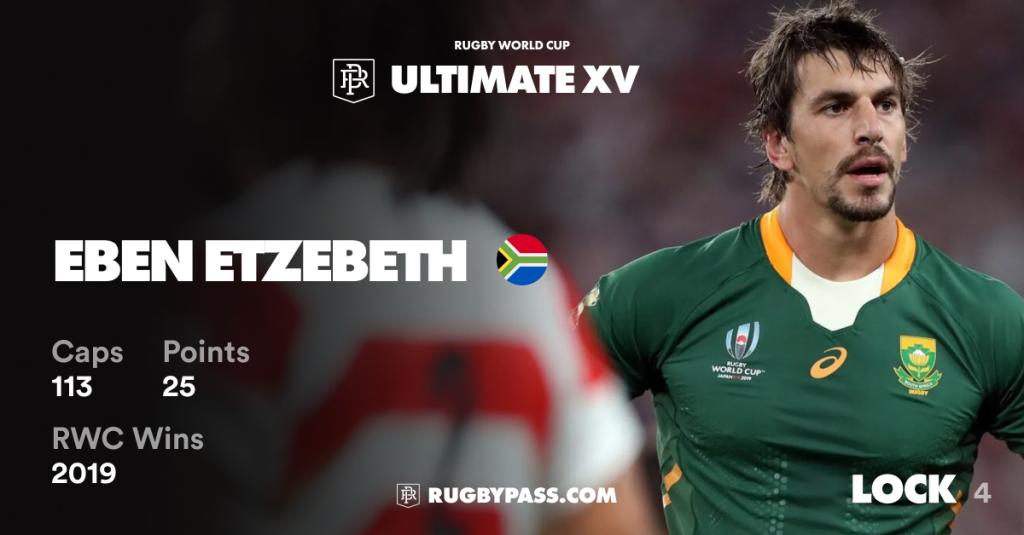 It's only appropriate that such an imposing colossus of a player has commanded such a huge share of our fans' selections, we are of course referring to South Africa's Eben Etzebeth, who smashed this one with 41%.
It's another Springbok giant, Bakkies Botha, who was second, but way behind Eben with only 19% of the vote. The battle for third was much closer though, with World Cup-winning All Black Brodie Retallick getting 16%.
Lock – Victor Matfield, South Africa – 25% of the vote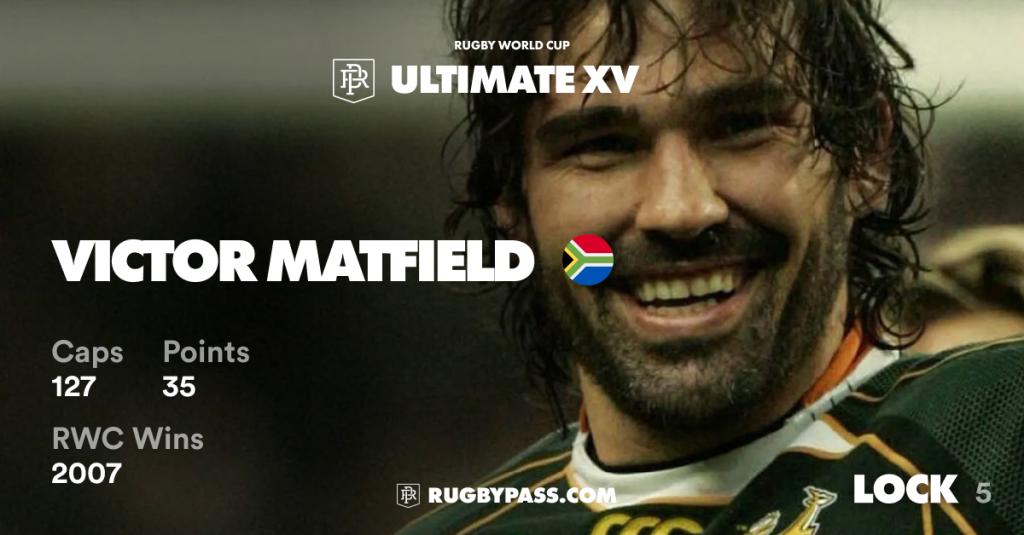 The other lock-to-feature was a much tighter call with only 1% in it. So just beating New Zealand's heroic Sam Whitelock (24%) to the starting berth, was former South Africa captain, and famous 2007 World Cup winner, Victor Matfield (25%).
In third place with 20% of our fan vote is one of Australia's most successful captains, as well as multiple World Cup winners, John Eales.
Blindside Flanker – Jerome Kaino, New Zealand – 23% of the vote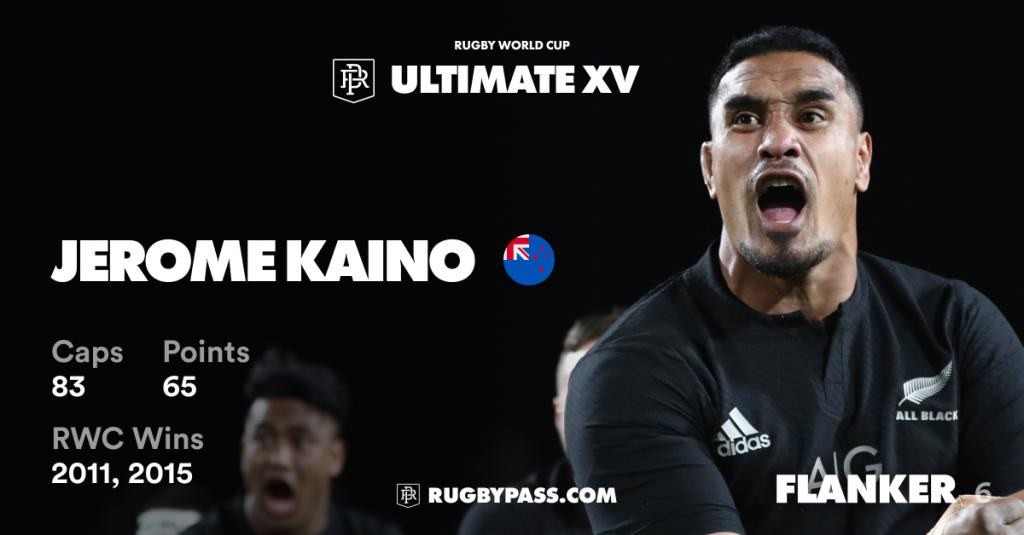 In another fairly close selection, it's yet another back-to-back World Cup winner and New Zealand legend, namely Jerome Kaino. Widely considered up there with the greatest All Blacks, he was the preferred choice for 23% of our fans.
However, the second and third positions were much more hard-fought with South Africa's Schalk Burger just pipping Thierry Dusautoir with his 20% over the Frenchman's 19%.
Number 8 – Kieran Read, New Zealand – 40% of the vote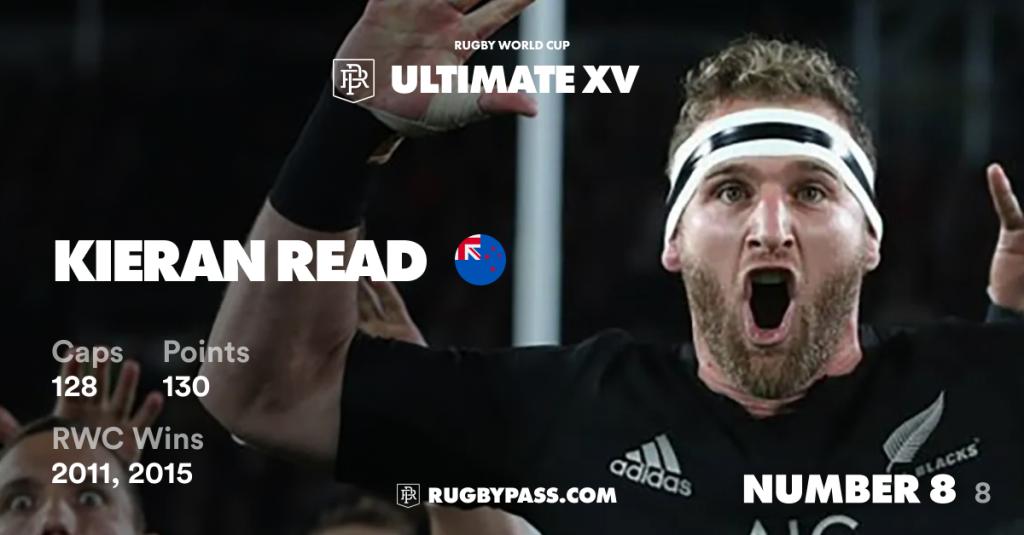 We thought this position might be a tough selection for our fans, but not, as this player has taken a mighty majority. With a whopping 40% of the vote, it's another back-to-back World Cup winning All Black and former New Zealand captain, Kieran Read. And to think, he was almost a cricketer…
His fellow countryman and formidable forward player, Zinzan Brooke was second with 21% and Duane Vermeulen who was of course 'Man-of-the-Match' for the Springboks in their 2019 World Cup Final win, was third with 17%.
Openside Flanker – Richie McCaw, New Zealand – 72% of the vote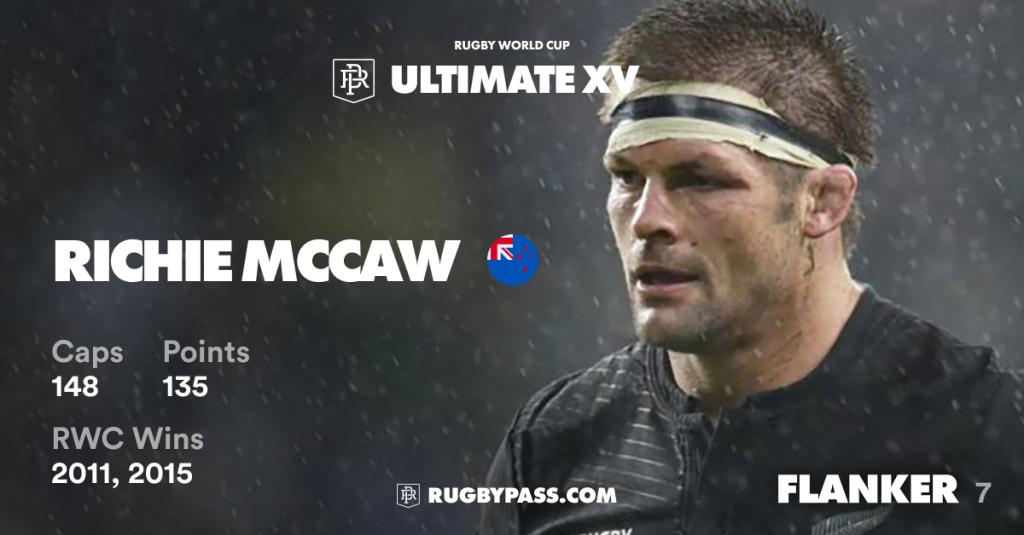 In a polar opposite to the previous position, we expected this to be quite an easy choice and our fans did not disappoint. Richie McCaw of course takes it with a huge 72% – the second largest majority of any selection. It's no surprise though, that he was a superb player, household name, double World Cup winner, and for many, up there with the greatest All Blacks of all-time.
Not to discredit the other legends in this position, as the second most popular choice was Wallabies hero David Pocock who was picked by 8% of our fans. In third was current Springboks captain, Siya Kolisi.
Scrum Half – Aaron Smith, New Zealand – 37% of the vote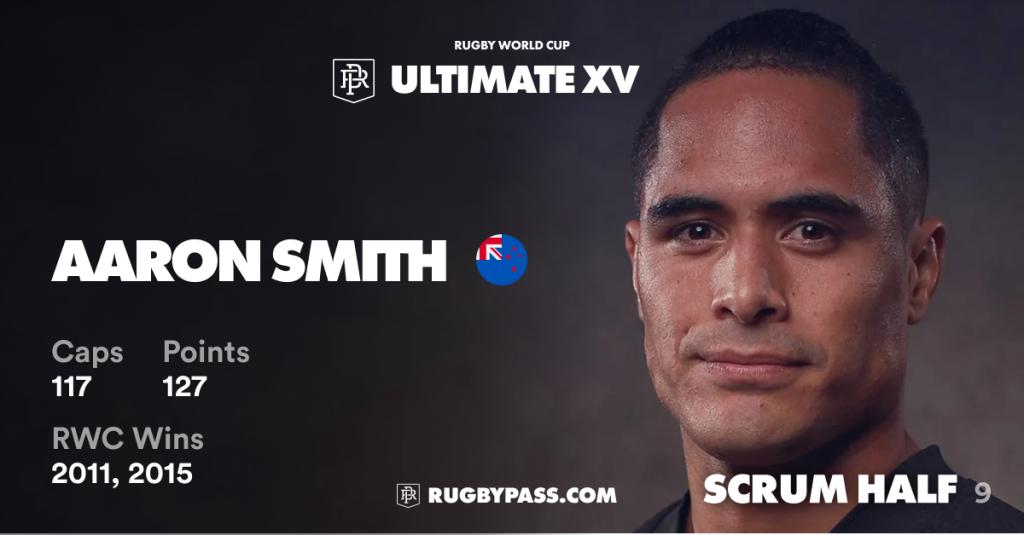 In this position is New Zealand's most-capped scrum half and 2015 World Cup winner Aaron Smith. Another, hugely popular choice with a sizeable 37% vote share, he comfortably takes this one ahead of some strong competition.
The second most popular choice with 21% of the vote is another South African legend in the late, great Joost van der Westhuizen, while 1999 World Cup winner and record-breaking Wallaby, George Gregan, is third with 18%.
Fly Half – Dan Carter, New Zealand – 73% of the vote
Once again, we didn't expect anyone else to take this spot and by the largest majority of any selection – and by all accounts the G.O.A.T – Dan Carter is the top choice with 73% of fans choosing him. He's of course one of the most decorated All Blacks, with two World Cups under his belt, plus a wealth of accolades and global admiration. A true living legend of the game.
It also speaks volumes that not even someone like England hero Jonny Wilkinson posed a threat to him, as he came in second with 17% of the vote. In third was another 2015 World Cup winner, Beauden Barrett.
Inside Centre – Ma'a Nonu, New Zealand – 56% of the vote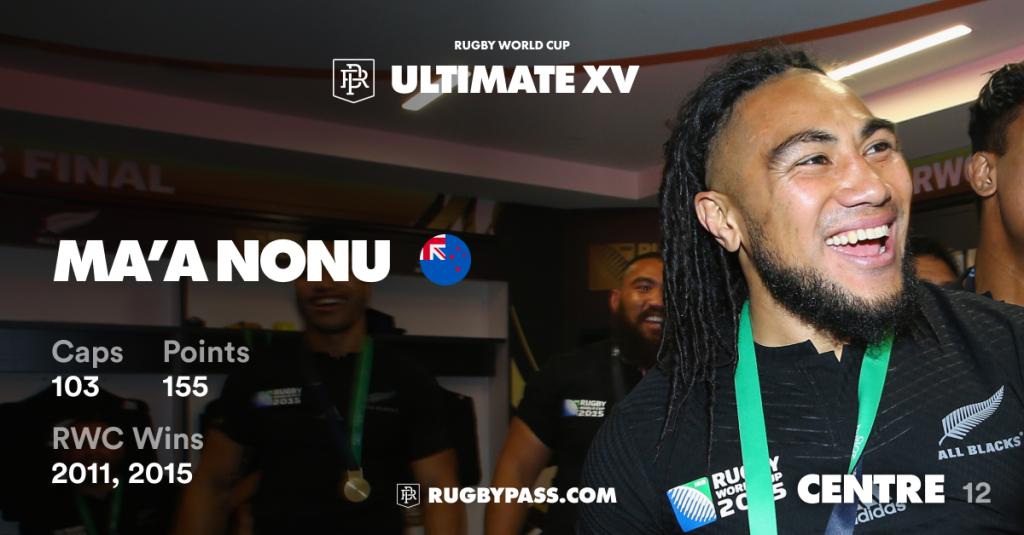 Here we have another double World Cup-winning All Black who has easily beaten off some fierce competition. Ma'a Nonu was famed for his explosive style of play and he's essentially blown away the others in this group by taking 56% of the fans' selections.
Interestingly, he also takes the vote over a player of similar ability and recognition, his fellow countryman, Sonny Bill Williams (17%). The third most-popular selection was kicking expert and 2007 World Cup winner, Francois Steyn (12%).
Outside Centre – Brian O'Driscoll, Ireland – 60% of the vote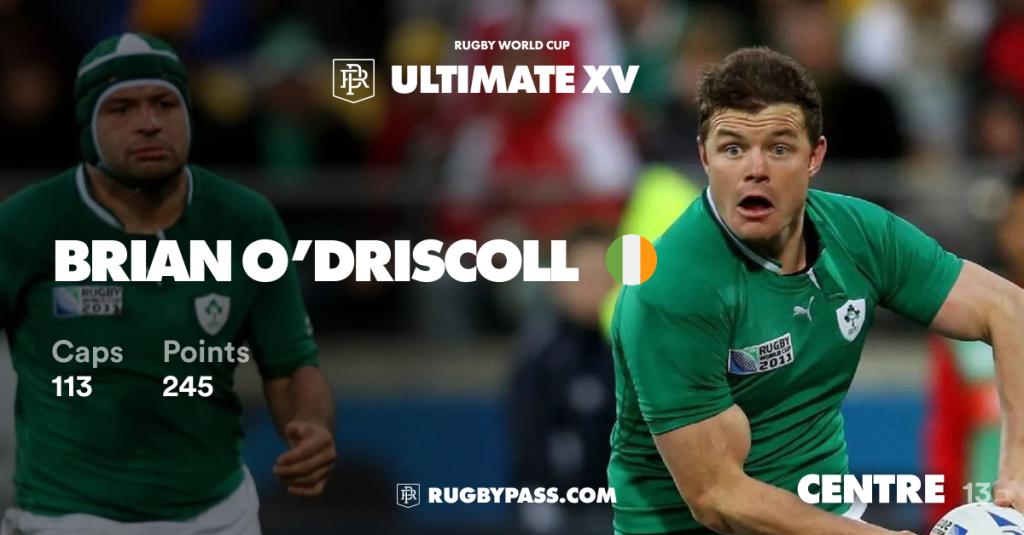 We had another clear-cut winner in this position, with former Ireland captain and legend Brian O'Driscoll taking the win courtesy of 60% of our fans. Although he has never won the Rugby World Cup, he has historically been instrumental in Ireland's qualification for many tournaments, and when on the global stage, would often showcase some inspirational performances.
In second place here was Conrad Smith (14%), who has been a vital part of New Zealand's success over the last decade, while another All Black giant Tana Umaga came in third (10%).
Right Wing – David Campese, Australia – 36% of the vote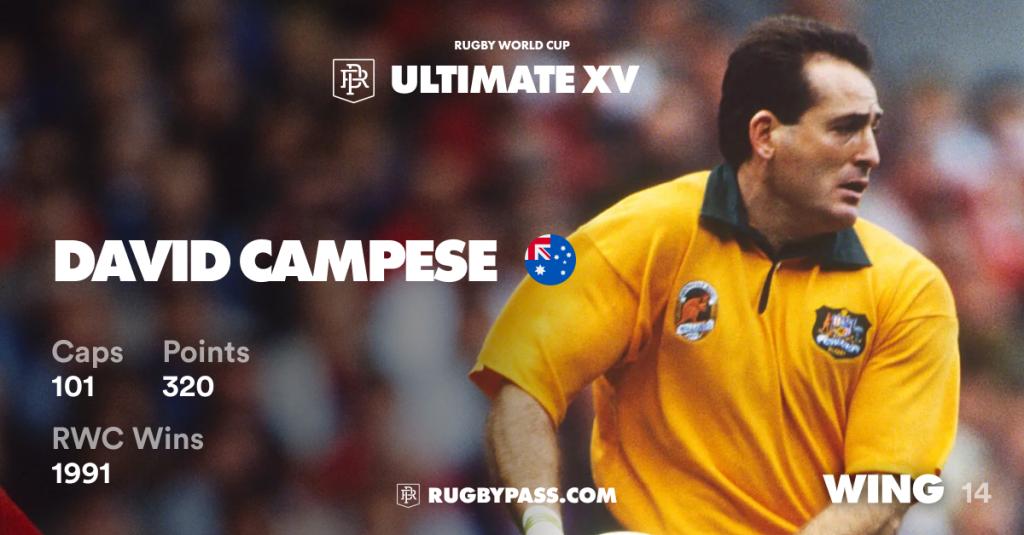 A truly fantastic winger and a World Cup winner in his own right with Australia, David Campese was the top selection for this position (36%). A divisive character in some respects, but from a rugby perspective, 'Campo' is widely considered to be one of the all-time greats.
Prolific All Blacks try scorer Doug Howlett was closest to him here with 16% of the vote and the similarly prolific Welshman, George North, was third with 13%.
Left Wing – Jonah Lomu, New Zealand – 59% of the vote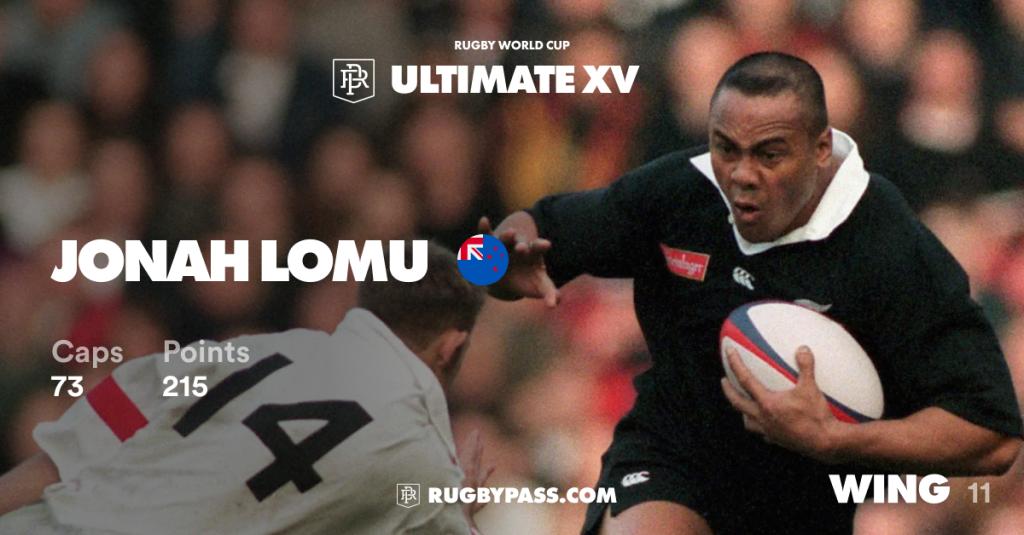 This was another instance where we expected a clear winner, and this was confirmed as the late great All Blacks legend, Jonah Lomu, took the spot with a huge 59% majority. His legacy will long live on as will the impact he made during the World Cups of 1995 and 1999 in terms of his immense try-scoring records.
Again, this isn't to discredit some of the other incredible players that could have taken this position, but it was 2007 World Cup winner – and superb try-scorer – Bryan Habana who took second place with 29% of the vote. Fijian great Rupeni Caucaunibuca was third with 4%.
Fullback – Christian Cullen, New Zealand – 28% of the vote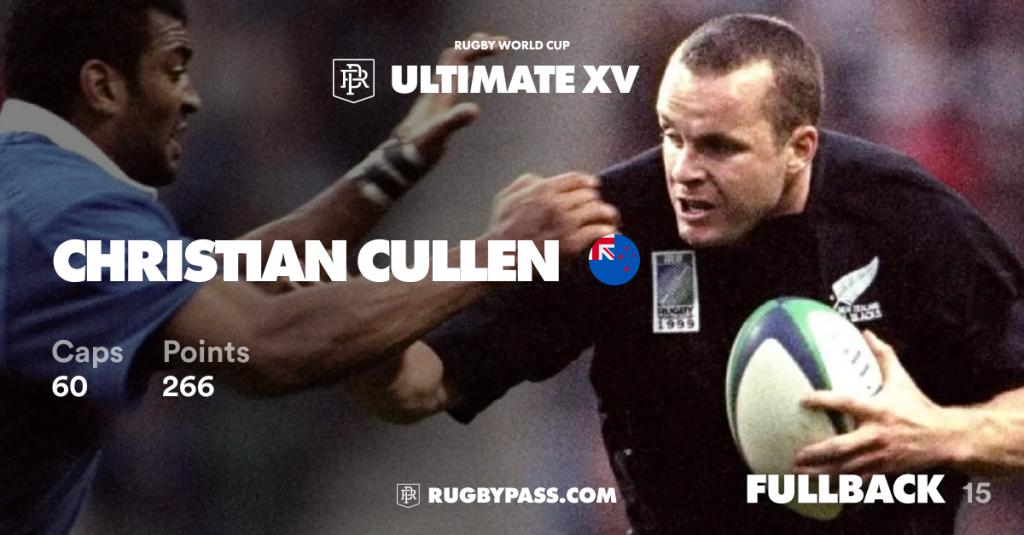 Last, but certainly not least, for our positions is fullback, and as has been quite common across our selections, it's another All Blacks legend in Christian Cullen who takes it. A prolific try scorer, he is also largely considered one of the best running fullbacks in the history of the game.
In second was another popular New Zealand fullback, Ben Smith, who got 18% of the vote and not far behind in third was the 'Pele of rugby', France's Serge Blanco (16%).
Coach – Rassie Erasmus, South Africa – 22% of the vote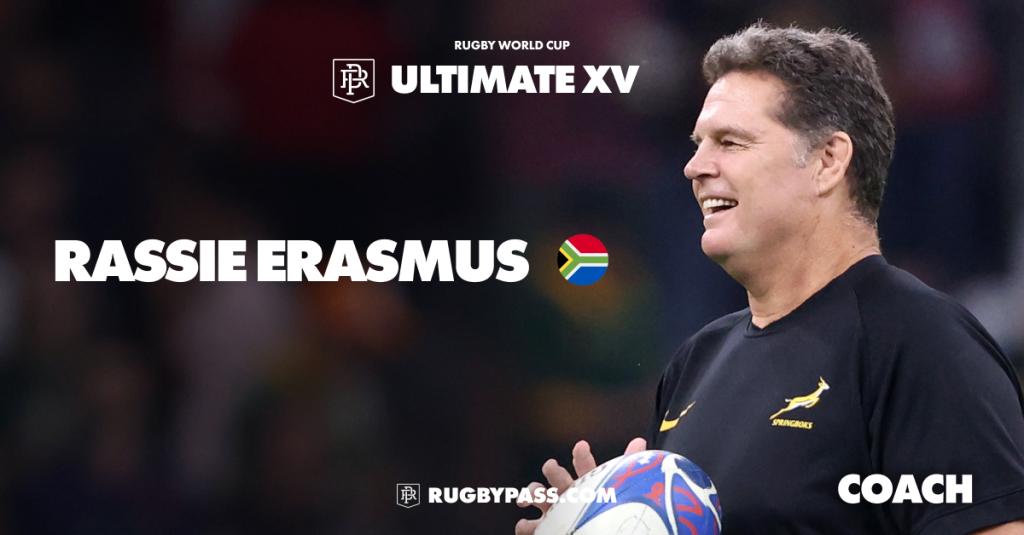 With so many superb coaches to choose from, we should point out that this was one of the closest selections, but just edging it with 22% is current Springboks Director of Rugby, Rassie Erasmus. Rassie of course took South Africa to that memorable tournament win in 2019, but with his outspoken approach and tactical prowess, he's incredibly well-respected and revered by many in and around the game.
Just behind him with 20% of the vote was Steve Hansen who guided the All Blacks to a World Cup win in 2015. In third was another New Zealander, Graham Henry, who also led the All Blacks to World Cup glory in 2011.
Referee – Nigel Owens, Wales – 58% of the vote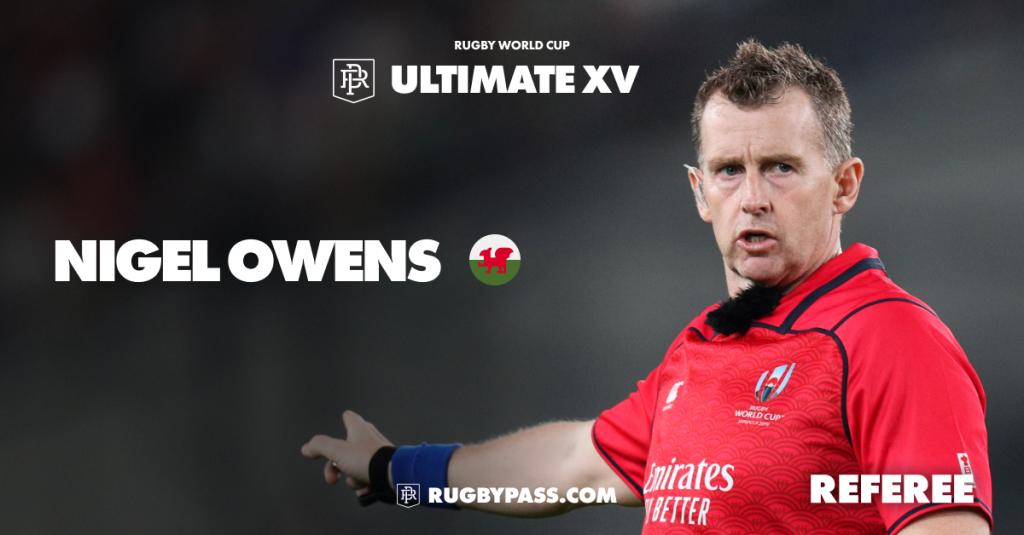 We thought it might be a bit difficult for some of our fans to pick their favourite Rugby World Cup referee, but with a big majority of 58%, Nigel Owens took this one with ease. Nigel is renowned for his quick wit and incredible ability to control games, even on the big stage. He has also been involved in three World Cups, refereeing the Final of the 2015 tournament.
With this, we asked one of RugbyPass' top journalists – and fellow Welshman – Owain Jones, for his thoughts on why Nigel Owens has been such an overwhelmingly popular choice amongst our fans:
"For me, the reason he's loved, revered and respected is because of his empathy and the connection he has with the players. Also fans like to be entertained and they like to see a game that ebbs and flows, rather than one with persistent stoppages and whistle-happy referees – and this is something Nigel Owens always seemed to be able to do. Perhaps it's because he always seemed to have an innate feel for the game.

He had an incredible mind too when on the pitch. He once told me that he would make around 240 decisions in a test match, and by that he didn't mean always blowing his whistle, he meant in his head. When you do the maths, that's one decision every 20 seconds, which is unbelievable, and the concentration required to do that is just immense. To put it into context, rugby union is often called an 'impossible game to referee'. You get 30 massive men throwing themselves into each other at breakneck speed in what is a highly complex sport and Nigel Owens was able to handle this with what seemed like ease.

His little quips made him endearing too. I can hear him talking to Chris Robshaw in my head and being like [imitates Nigel] "Now come here, Christopher! This is not football you know." in his lovely Welsh lilt. He could also raise an eyebrow like a schoolmaster, but you'd know he was always trying to be kind and not being too officious. But, being able to act in such a way is a really fine balance, but one that would come naturally to him.

It was also that warmth, sense of humour and use of language that made him so popular with the fans. I would say there's few that would ever consider him biased in any way. People always respected his neutrality in the game.

I was there in person for the 2015 Rugby World Cup Final, in which he took the whistle, and as a precursor to that, one of the main reasons he was elevated to that game was his performance in a test match between the All Blacks and the Springboks in 2013 – Owens has said himself it was the greatest game ever.

For the Final it was obviously a massively important game; there were two of the world's best teams, the likes of Rupert Murdoch and Kylie Minogue was in attendance and some other fairly high profile names, so World Rugby needed someone trusted to take the whistle for it. You also had players, especially the All Blacks, at the peak of their powers like Keiran Read, Richie McCaw and Dan Carter, and they all respected Nigel Owens and his word.

He helped make it a very entertaining Final, and ultimately, there was no better man to officiate that game."
The wider results of this poll saw the South African duo of Craig Joubert and André Watson take the second and third spots with 6% and 5% of the vote, respectively.
Stadium – Twickenham, England – 27% of the vote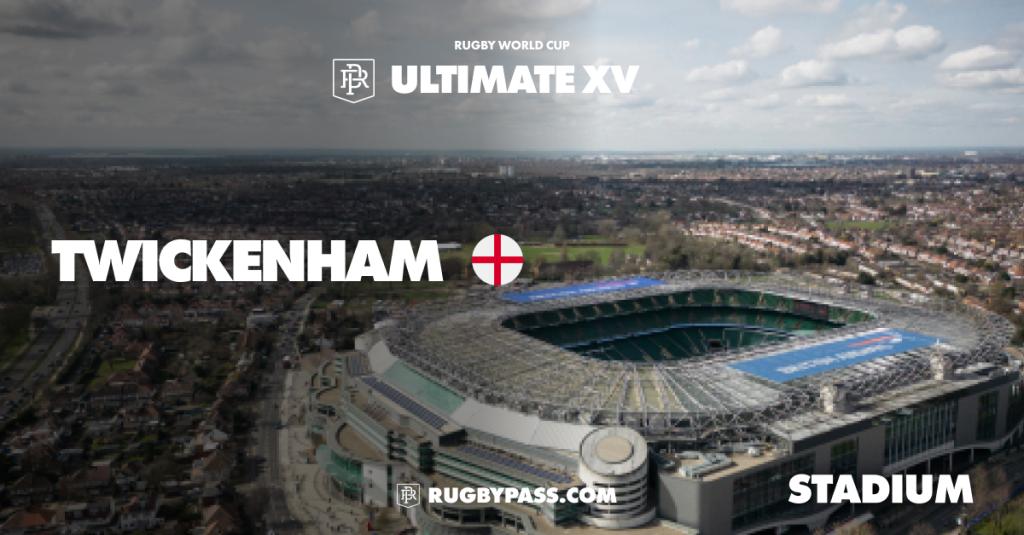 In a similar vein to the choice of coaches, many stadiums and grounds have hosted some incredible games in Rugby World Cups gone by, but it's Twickenham, the home of England rugby, that our fans have deemed the greatest venue. There have been numerous Pool and knockout games held here, but more significantly, two Finals in 1991 and 2015.
The host of the iconic 1995 Final, Ellis Park was the second-most-popular selection (21%) and Wales' Principality Stadium was third with 18%.
If you want to make your selections remember you can sign up with RugbyPass now, before making the most of our Ultimate XV player picker. Be sure to also download and share your predictions with us on social, or leave your comments in the box at the bottom of the page.
Other Notable Findings
If we dissect the data we've gathered in a little more detail, we can also see some interesting points. Here's a short selection:
The Ultimate XV is made up of 67% All Blacks
The line-up is also 20% Springboks
94% of the players are from the Southern Hemisphere
80% of the team has won at least one Rugby World Cup
Only one England and one Wales player has been in the top three selections
The majority of second and third-choice players are All Blacks and Springboks
The Predictions of RugbyPass' Experts
Alongside getting the thoughts of our fanbase, we turned to several ex-players, rugby pundits and content creators to get their expert opinions. Here's what they had to say: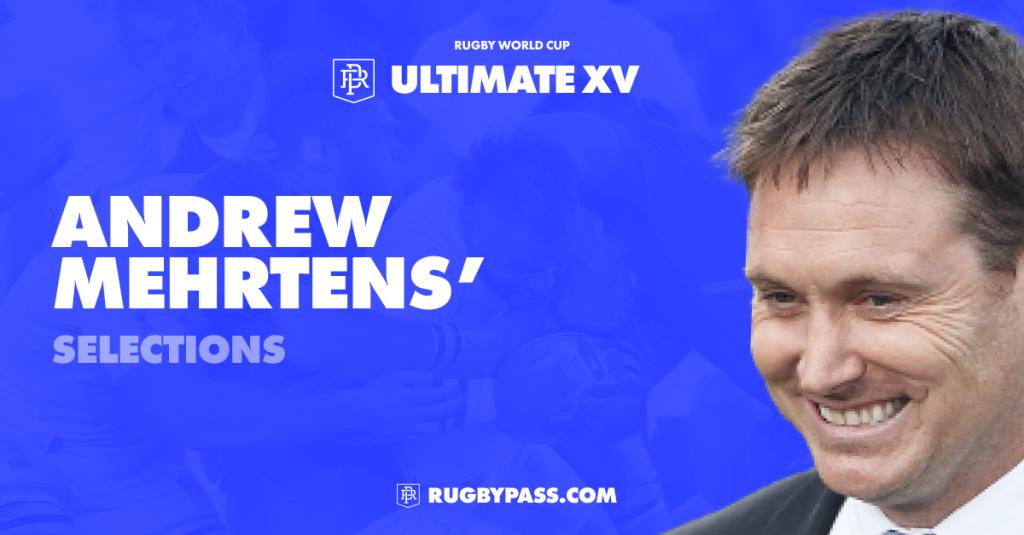 Andrew Mehrtens' Selections
We first spoke with a true legend of the game and one of the best flyhalves of his time, All Blacks hero, Andrew Mehrtens. Here are his selections and his reasons why: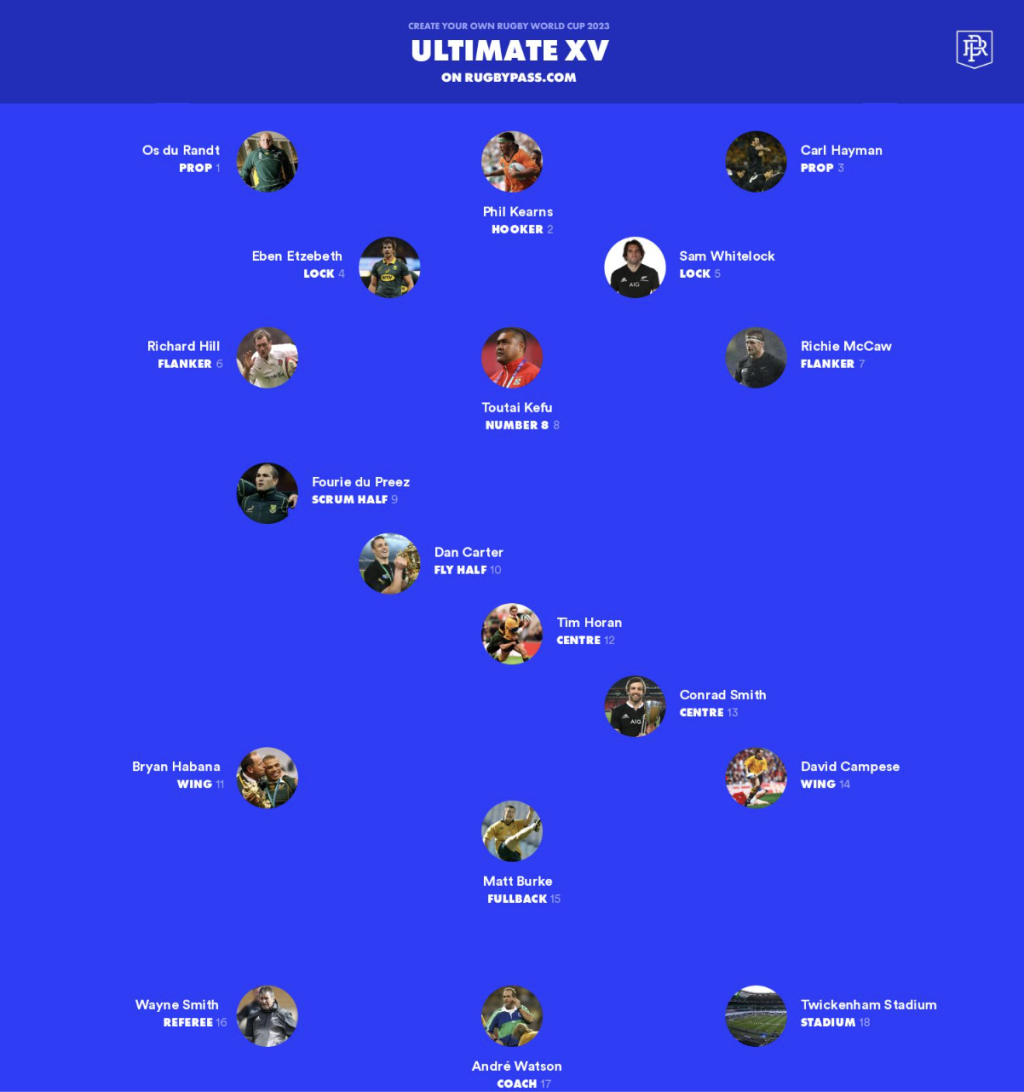 Loosehead Prop – Os du Randt, South Africa
"Os picks himself here for me, I mean to win two Rugby World Cups twelve years apart is amazing, and in '95 in particular, he was an absolute beast. They built the team around him because he's an extraordinary player. Funnily enough, I also remember not long after that when I was playing in the Super Rugby in South Africa, I saw a prop alongside me turn absolutely white when they saw the size of Os [laughs].
However, I do want to add that as a New Zealander, I do have a soft spot for Tony Woodcock. He scored the only try for the All Blacks in the 2011 Final off a set piece, which is pretty rare for a prop, which as you can imagine, was awesome to see."
Hooker – Phil Kearns, Australia
"A really difficult choice, but the guy who takes it here is someone who has won two World Cups and that I've worked with before. I'm of course talking about Phil Kearns.
He was a new breed of prop in the World Cup of '91 and then he lasted out the whole decade and again '99. To be fair, the Wallabies who won in that year were all incredible and it's hard to see past them in many positions. But as my former employer I owe him a bit of a debt [laughs], so I'll – and I'm saying this ironically – 'plump' for Kearnsy.
It's also important to say he had the best complexion I've ever seen on a hooker, goodness knows what moisturiser products he must've used but his skin was radiant! Not really something you expect from someone on the front row, so that must've taken a lot of effort to maintain."
Tighthead Prop – Carl Hayman, New Zealand
"This guy was fantastic and he was a big part of getting tighthead props recognised for their importance. And although he didn't win a World Cup after that devastating loss to France in 2007, he was just a colossus in the scrum and like I say, he helped show the real value of tighthead props."
Lock – Eben Etzebeth, South Africa
"Locks are really tough to choose, but Eben Etzebeth is an unbelievably good, modern lock and is of course a World Cup winner in his own right. He does the core roles with ease and pops up around the field like a beast when he's carrying the ball. He's also just an absolute menace at the breakdowns."
Lock – Sam Whitelock, New Zealand
"I'm going with another New Zealander here, Sam Whitelock has an unbelievable playing ability and the quality of it never drops despite the length of time he's been with the All Blacks. It really is astounding to see how he keeps going and how he gets through the workload he has on the pitch.
I guess it's also the precision he brings to both lineouts and kick-offs. He could end up being the first player to win three World Cups too, which would be a phenomenal achievement. I can't see anyone else doing that either."
Blindside Flank Richard Hill, England
"There's one guy who is always talked about by his teammates for being selfless, professional and for just getting on with it and doing what was required – and that's Richard Hill. Without him, England wouldn't have been as successful at previous World Cups. People have such huge respect and fondness for him too.
"We're spoilt for choice here though, I mean you'd look to players like Francois Pienaar; who can forget when he held the trophy next to Nelson Mandela in 1995? An incredible moment for rugby and humanity."
No.8 – Toutai Kefu, Australia
"'Big Kef is another guy who all his teammates talk fondly of. He was phenomenal, particularly skillful for a Number 8, strong and just an awesome player who I was lucky enough to play against. He always turned up for the big games and on top of that he's just a fantastic bloke.
Honourable mentions here though for the likes of Kieran Read, Lawrence Dallaglio and Wayne Shelford. These guys were phenomenal in their time."
Openside Flank – Richie McCaw, New Zealand
"When you come from a country that reveres Richie McCaw so much, I'd be arrested if I didn't choose him [laughs].
I mean, he played the 2011 tournament on a broken foot most of the time, and just the leadership and the culture of success that he drove and brought to the All Blacks during his time was unmatched. He was tireless on the field, his exploits on the ball were superb and he was such a workhorse.
It's the toughest position in a lot of ways and I've played with some amazing people in my time, George Smith for instance was incredible and some consider him the 'GOAT', but for me it's Richie."
Scrum Half – Fourie du Preez, South Africa
"Fourie du Preez is a guy who when you run into South Africans they'll always talk about him and how great he was. Not only did he have a phenomenal pass and ability to marshall the forwards well, but his reading of the game was very much like Antoine Dupont's today. He was regarded by so many as the absolute best.
"They're all a fantastic bunch here though. George Gregan was incredible for the Wallabies, Nick Farr-Jones was an amazing captain in '91 too."
Fly Half – Dan Carter, New Zealand
"I've been traumatised by plenty of fly halves at Rugby World Cups and lots of us have our experience with crucial drop goals, but I'm going for  Daniel Carter.
It may be no surprise that it's another New Zealand, but he's another 'GOAT' to many fans of the sport and to me, he was the complete flyhalf. Not even a close second here.
The way he played at the 2015 tournament stands out, particularly the drop goals he hit against South Africa in the Semi-final and Australia in the Final, which were hugely important moments. But then add in his ability to basically do anything and everything; he was brave in defence, had incredible speed and kicking abilities and was wonderful with the ball in his hands."
Inside Centre – Tim Horan, Australia
"Tim Horan is another guy who won two Rugby World Cups for Australia, the first in '91 when he was just a young tyro through '99 when he was much more senior and a crucial part of the leadership in that Wallabies team. He could play at outside centre too if he wanted and he's just a hell of a good bloke – you can't really say much better than that."
Outside Centre – Conrad Smith, New Zealand
"I'm going back to New Zealand here again with Conrad Smith. He was the other half of that wonderful pairing with Ma'a Nonu, but it's his own versatility, vision and intelligence that meant he was deceptively quick and great at dealing with runners on the defence. He was incredibly strong and brave too when he needed to be, and his organisation of the All Black's defence was a huge part of their dominance in the early 2010s."
Right Wing – David Campese, Australia
"David Campese was a proper rugby genius. He could do everything and had a big boot on him as well, so he could play at fullback if he wanted. The vision he had made him great at manipulating space around him and he would often get himself or someone else in the right place at the right time."
Left Wing – Bryan Habana, South Africa
"Christophe Dominici – rest in peace – I remember he launched the French comeback in that Semi-final in 1999 and I've always had a soft spot for him since, but it's hard to look past Bryan Habana here.
He was so important to the South African World Cup victory in 2007. Lightning quick, would pounce on any opportunity to make you pay, and the fact he's still so in demand as a pundit these days shows the impact he had on the world.
It's tough not picking Jonah Lomu here too. He was a special man to play alongside; I count myself very lucky to have been anywhere near him, let alone in the same team. He put rugby union on the global stage and that iconic performance against England especially will live on."
Fullback – Matt Burke, Australia
"I played against him a few times and I think Matt Burke was the complete fullback, if not a little underrated. He was fast, a good defender and his goal-kicking was second to none."
Coach – Wayne Smith, New Zealand
"There are some many amazing coaches from past World Cups, from Kitch Christie and Jake White with the Springboks, through to the likes of Steve Hansen and Graham Henry, but my personal favourite is Wayne Smith.
He's a guy who is so selfless, so giving, has incredible rugby knowledge and his way of managing players and investing himself in player growth on and off the field is unmatched in my eyes."
Referee – André Watson, South Africa
"Well, if I must…[laughs], I'm going to say André Watson. I had some great moments on the field with him, he was a wonderful referee and as much as I argued a few times with him, he's a good bloke.
There's one moment that stands out to me, it's not from the World Cups but in the Super Rugby; he was about to yellow card Justin Marshall and as Marshy realised this he stormed straight off the pitch without waiting to speak to André. Anyway this completely diffused the situation as André had to call him back and by that point couldn't bring himself to deliver the yellow card on the field! It was quite bizarre, but a good tactic to use I guess [laughs]!"
Stadium – Twickenham, England
"I was so lucky to play at some amazing stadiums, the likes of Ellis Park, and as an All Black at Eden Park, obviously. Murrayfield I loved and Lansdowne Road always had a great atmosphere.
This might surprise a few people though but I'm going to say Twickenham is the most amazing stadium for World Cups. It's hosted two Finals and when you hear the anthems there, it's pretty damn special."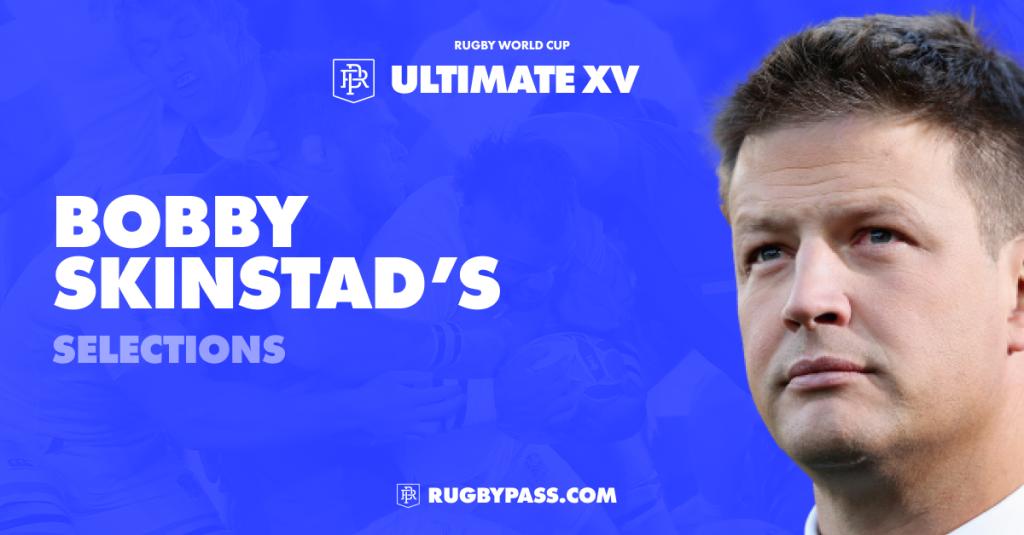 Bobby Skinstad's Selections
We also got the selections and thoughts of former Springboks captain, 2007 Rugby World Cup winner Bobby Skinstad.
However, we should point out that Bobby decided to be "a little controversial" here (his own words) and he didn't pick any South African players. His reason for this was that he would just pick a team full of amazing Springboks and it wouldn't properly showcase the greatness of the Rugby World Cup. Although he did concede it was a very difficult decision to make!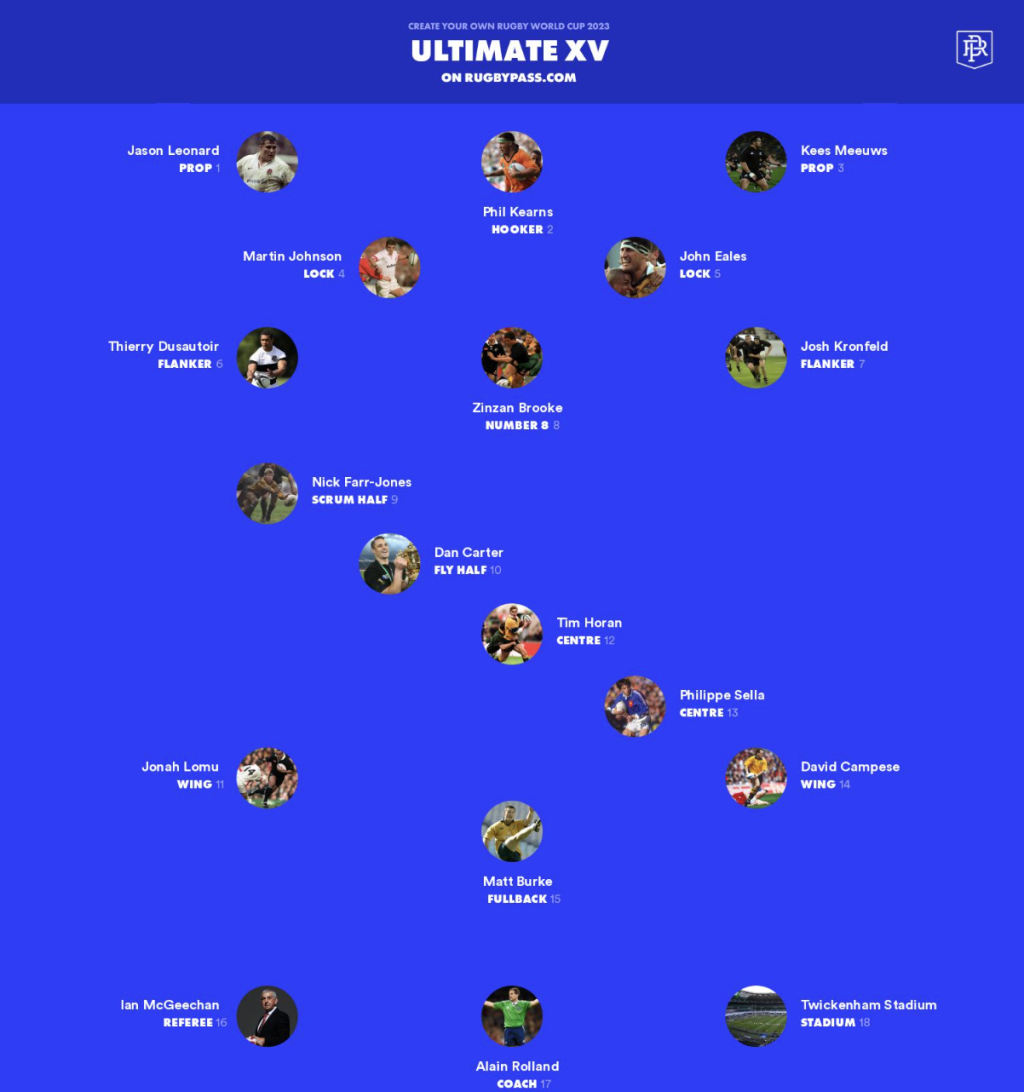 Loosehead Prop – Jason Leonard, England
"The easy one for me here, not including Os with all his World Cups, it's my absolute favourite person in world rugby: Jason Leonard. On and off the field he is the fun bus and he's someone who always turns up when it comes to a World Cup. If you take 2007, he was outstanding and ultimately instrumental in getting England to the Final plus he held that team together.
"There are lots of names you could throw in here though for this position. Andrew Sheridan, for instance, had his own little cult fan club and was one of the strongest players of his time."
Hooker – Phil Kearns, Australia
"I love Raphael Ibanez and Fitzy [Sean Fitzpatrick], and picking this position is like the 'battle of the giants' for me, but Phil Kearns pips them at the post. If I'm honest it's because Kearnsy played golf with me recently and was kind to me but Fitzy played against me and beat me.
In all seriousness though, Phil Kearns scored an amazing try in the first World Cup I ever saw – the opening game of '95 I believe – and that's always stood out to me."
Tighthead Prop – Kees Meeuws, New Zealand
"Very easy for me here, because Kees Meeuws is one of the nicest guys in rugby while also being someone who doesn't take no for an answer. I've only played with him after retirement in vets games and he still gives the youngsters a good battering, so that edges him above the rest. Also, put it this way, if he stands up, everyone goes quiet.
I should add that Phil Vickery was a close one for this position; I mean he could still be playing now, he's still in such good shape."
Lock – Martin Johnson, England
"Johnno [Martin Johnson] edges it here. As the resident leader, hardman and someone who never took a step backwards he would always be the first pick for me. The funny thing is I only really experienced him as a person in the opposition for a good seven or eight years, and he was just beautifully old school English, uncompromising, direct and just so hard and resolute to play against – and I love that!
It's not like he's 'softened' now or anything but the aura of him as a player is different and we've become mates off the field. Despite the facade he's a nice bloke and is a great guy to be around."
Lock – John Eales, Australia
"Another easy one for me, John Eales. Imagine if you had a tough man like Johnno on one side and John Eales on the other, you have the best World Cup lock pairing of all-time. John Eales is an outstanding gentleman but has also been a top winner throughout his career."
Blindside Flank – Thierry Dusautoir, France
"It's a tough call here but I think I'm going to go with Thierry Dusautoir and this is purely based on his performance as captain in the 2011 Final where France almost brought it home against New Zealand.
He was outstanding and I don't think he ever really got the kudos he deserved for it. If you look at the contribution stats for that match he was absolutely unbelievable, so good on him for that."
No.8 – Zinzan Brooke, New Zealand
"I'm going to pick Zinzan Brooke because I always looked to him and his skillset growing up to see if I could match his ability – and I never managed it – particularly with things like the long range drop goals he could score. What an amazing rugby player and sportsman.
Zinny just has something about him and he loves to win; he also always tries to find ways to win and that's the sort of person you want in your locker room. One example outside of rugby is when we play golf together; he can't chip to save his life so he will always putt from like 100 yards out – and he's unnervingly accurate at that distance."
Openside Flank – Josh Kronfeld, New Zealand
"You can't go much further away than Richie McCaw in this position, but as someone who impacted me more growing up watching World Cup rugby, Josh Kronfeld was the guy who reimagined this openside position in the '95 tournament, and I reckon he even affected the way Richie went on to play too."
Scrumhalf – Nick Farr-Jones, Australia
"This one is also difficult for me as there are so many great players and a lot of them stand out, but I'm going to go for Nick Farr-Jones. I've been lucky enough to watch him play and he never made a mistake, and he always got his job done like a proper leader."
Flyhalf – Dan Carter, New Zealand
"To me, Dan Carter epitomises everything about this position. He was the first guy who could kick and run and tackle and defend and just do everything else while being a thoroughly good leader and a good example to everyone else.
If you were to ask me who might run him close, I'd say Stephen Larkham. He was a different type of fly half who embodied a whole new Australian game plan and he caused a seismic shift in how the game was played. He also only ever kicked one bloody drop goal, which of course sunk us in 1999."
Inside Centre – Tim Horan, Australia
"No debate about this one, Tim Horan was the full package. He's the only guy who I've ever seen come back from a horrific injury, win himself a World Cup and be 'Man of the Match' in some of the biggest games in their history. Another top gentleman off the field, but what a competitor on the field."
Outside Centre – Philippe Sella, France
"The pairing here is quite easy and it's the guy who changed my perception of any team more than anyone else, Philippe Sella.
He played in a team where he was probably the only consistent thing in the entire outfit and he ruled the roost. His longevity was another standout aspect, being one of the first French players to win 100 caps. He could pass off both sides, counterattack with flair and he rarely missed a defensive tackle, but in general he was just a quiet, understated guy who got on with it – a great ambassador for rugby."
Right Wing – David Campese, Australia
"I'll have to go with David Campese. He was controversial in his day, but he quite genuinely embodied the free spirit of the game with everything he did."
Left Wing – Jonah Lomu, New Zealand
"It's not a hard choice, I'm going for the big fella, Jonah Lomu. He meant so much to me and many others and he was a guy you'd always want on your team. In his day, he was truly special."
Fullback – Matt Burke, Australia
"Matt Burke was an incredibly accomplished fullback and it speaks volumes that he held his position in the Australian side for such a long time. Also, he's a fantastic guy off the field."
Coach – Ian McGeechan, Scotland
"There are so many accomplished coaches to choose from in World Cup history; Warren Gatland for instance sticks out as a modern-day genius who can transfer his skills across so many different teams. He's a top man manager too.
Controversially though, I think I'm going to go for Ian McGeehan. I haven't worked with him but I've seen the work he has done and his passion for the game is unrivalled amongst his peers. His attention to detail is incredible too and he could make people run through walls for him."
Referee – Alain Rolland, Ireland
"Referees have a bloody difficult job, but the ones who are easier to chat to make it much easier for everyone – and one of the best communicators out there was Alain Rolland. I also saw him warming up once and I spotted that he could do more press ups than me [laughs], so there's that too."
Stadium – Twickenham, England
"Okay, Ellis Park is obviously close to my heart, but even though I might get slandered by my South African friends, I'm going with Twickenham.
As well as it being one of the great cathedrals of sport, be it a World Cup or not, I've chosen this in memory of my old man. He was a doctor and I got him some tickets to what ended up being my last game at Twickenham. In this particular match, I dislocated my shoulder and got knocked out. So I was there lying on my back and when I came to there was a circle of players looking down over me and one familiar face – my dad!
I think he thought that because he had been a doctor all his career that he had a right to hop the fence and make it across to see if I was okay [laughs]. He had somehow seen the collision, and in the time it took for me to go down and then come round, he had run all the way down to me. The ref actually said to him when he got there "what are you doing here?" and my dad was like "No, no, that's my son, just relax" and the ref just looked at him for a moment and went "Oh okay, fair enough you can see him".
As you can imagine, I was swearing at him being like "what are you doing here?! Leave me alone!" and he actually ended up getting put in handcuffs and he was kicked out. Security then let him off outside, but somehow he managed to find a nice old lady on one of the turnstiles, and after explaining himself, she kindly let him back in. So all of this has just cemented Twickenham as a special place for me and my family."
Johnnie Beattie's Selections
We also spoke to one of our very own pundits, former Scotland international, Johnnie Beattie. Here are his selections: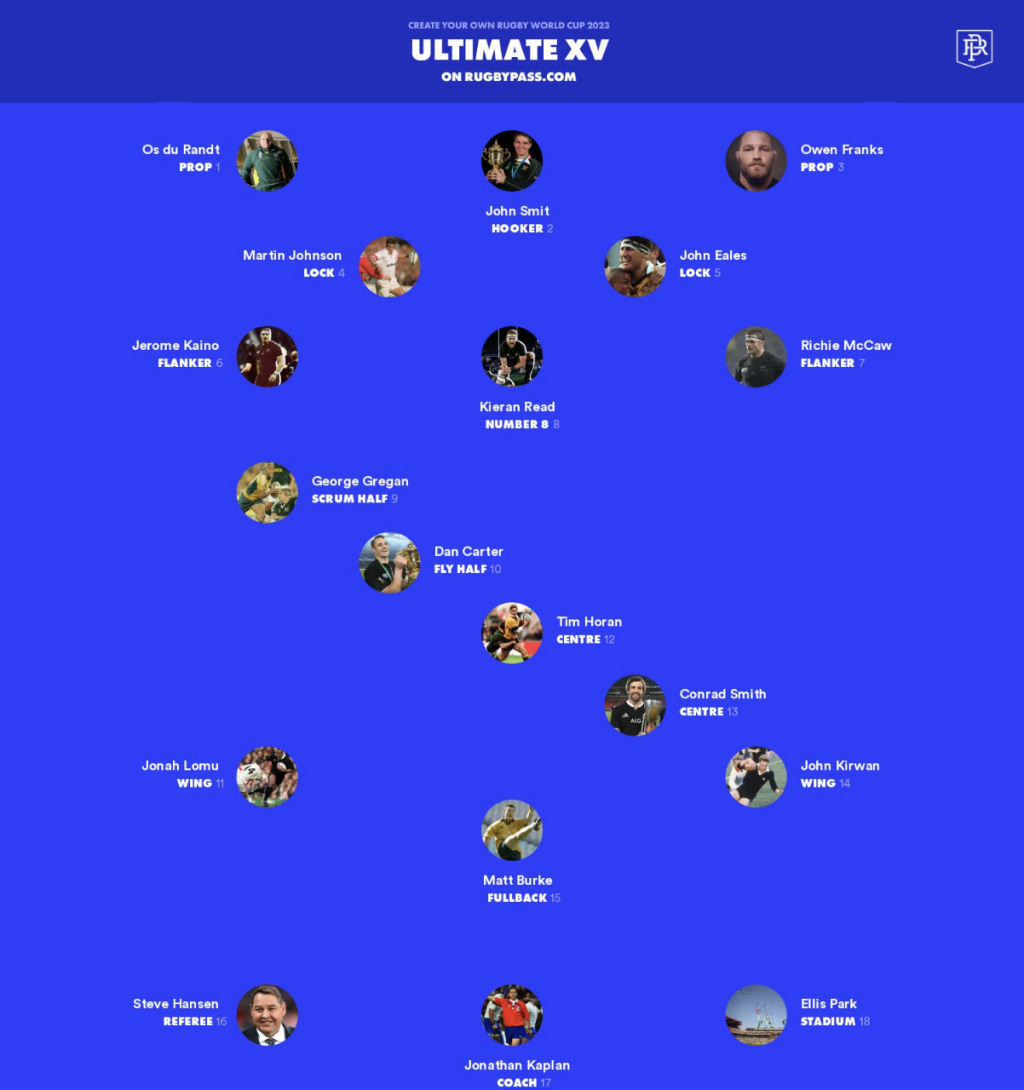 Loosehead Prop – Os du Randt, South Africa
"There's one player that stood out to me here and that's Os du Randt. He crossed the chasm between amateur and professional rugby union and was the only member of the 1995 World Cup winning Springboks squad that was still playing to make the Final win of 2007; to have that as your final game is a hell of an achievement. Plus, he got a huge amount of caps for South Africa, despite the fact there weren't as many games during the amateur era.
Having played against him I can tell you he wasn't just a massive man-mountain, he was also a real physical anomaly, and to have that longevity at that level in a position that's so confrontational and so attritional, really puts him in an elite crop."
Hooker – John Smit, South Africa
"John of course managed to lift the World Cup trophy in 2007 as captain, and the squad loved being led by him. I'd say he was also the complete package on the field; throwing, carrying, scrummaging you name it. I don't think people get how versatile he was either, considering he was another massive bloke.
We played together on the Barbarians tour, and he was great fun, a lovely guy, and like I say, a great leader. Oh, an excellent golfer too."
Tighthead Prop – Owen Franks, New Zealand
"There aren't many people with an international record like Owen's, especially when you consider how much the game changed during his career.
Another man that also won the Rugby World Cup twice [2011, 2015]; he was so solid in the front row for New Zealand, as well as being dependable and someone who created a strong platform for his team mates. Also, he was uncompromising in defence and with the ball in his hands; just incredibly talented and hardworking."
Lock – Martin Johnson, England
"I found this position the hardest to pick. In the end it's also the only player I have from the Northern Hemisphere – and that's Martin Johnson. A big, brutal enforcer.
A World Cup winner in 2003, and while he might not be as gifted and talented, or as good a ball player as some, he was just uncompromising and sometimes that's just what you need. He was never willing to take a backward step for England, particularly in the year they won it [the Rugby World Cup], and if you speak to people about him, they'll unanimously agree about the influence and aura he had – and still has, even now."
Lock – John Eales, Australia
"This was also a hard one as there are so many players I've loved to watch and play against in this position, not just on a World Cup level. I was torn between Victor Matfield and John Eales, as to me they were the two players who were the most influential to their respective World Cup wins.
However, I'm drawn to John in that I really enjoyed watching the way he played for Australia and he was even kicking goals from the second row, so it's almost like he was trying to be the best all-round rugby player. He was also from an era where forwards were typically considered just big, bulky, heavy blokes, but John was bright, articulate and he could ball carry and run – and do pretty much everything.
Growing up I was a left-footed goal kicker and there was this guy who could be a forward and goal kick, so he was very inspirational to me as well."
Blindside Flank – Jerome Kaino, New Zealand
"For such a long period of time, Jerome absolutely destroyed people in World Cups and he's another double winner. He would have a quiet but powerful influence with every side he played with, specifically through his physical dominance.
To me, he's almost the blueprint for what you want a blindside flanker to look like; six foot five, built like a truck, a massive engine and a top bloke you'd just want to have in your team."
No.8 – Kieran Read, New Zealand
"A modern day Number 8, Keiran has been part of two World Cup winning sides and he can pretty much do anything. He could call and run a lineout, his work at the breakdown was world class, as was his ability to carry, his power and his ability to offload. What's more, he was always that link you could rely on, particularly on the attacking edges.
In my view, he has been the standout Number 8 over the past decade in World Rugby and that's not forgetting how much of an amazing athlete he was and the massive engine on him."
Openside Flank – Richie McCaw, New Zealand
"Richie of course captained the All Blacks, played 148 tests, World Rugby 'Player of the Year' three times, 2011, 2015 World Cup winner and I'm not sure we'll ever see another player dominate space like he did in the same way again.
Similar to Martin Johnson, the mental aspect of his game was a real strength; he wasn't the biggest, heaviest or most explosive but he was a leader in every game he played for New Zealand.
If you speak to the boys that were alongside him for the All Blacks during his tenure, they'll say he was an absolute phenomenon, and the influence he had whilst playing in possibly the hardest position in the forward pack, was instrumental to their success across a 15 year period.
He also shouldered a lot of responsibility as the All Blacks captain and almost made it look easy. To me he's one of the most, if not the most, respected and best openside flankers of all time."
Scrumhalf – George Gregan, Australia
"The scrum half I've most enjoyed watching across World Cup periods is George Gregan. When you look at the early days of professionalism in the game, he changed the way people defended by bringing people in around him, as this would then make the opposition have to defend differently.
He also brought a lot of mental determination and tenacity as a captain and a leader, plus he was ridiculously strong."
Flyhalf – Dan Carter, New Zealand
"Mehrts would be my drinking partner, but sadly he doesn't make the cut here [laughs]. I also assume most people will go for this person here, but it has to be Dan Carter. He's another 'complete package' of a player, I mean he had everything and won everything; it's almost difficult to know what to say!
He had pace, he was physically strong, technically brilliant, incredibly sharp in his decision making. Pass, run, kick, he made it look easy when he was gliding around the pitch."
Inside Centre – Tim Horan, Australia
"An inside centre that stuck with me is Tim Horan; I loved watching him play in the early days; he was powerful, had outstanding decision making, was strong in defence and was a playmaker. Tim wasn't the biggest bloke either but he packed an incredible punch when playing, above all though, he was just really smart.
I remember hearing once that he got food poisoning before the 1999 Final and despite that played the whole game and won it, which is ridiculous when you think about it. He's another double winner too."
Outside Centre – Conrad Smith, New Zealand
"I have a huge appreciation for Conrad Smith in that I think he probably never got the recognition he deserved, especially in what is probably the hardest position to defend from on the rugby pitch; he was pretty much perfect at it – which is a very, very hard skill.
Another guy with a massive engine, but he got on with his business quietly and was so effective in what he did – whether it was linking and bringing those in beside him or creating space for those around him. Another double winner as well."
Right Wing – John Kirwan, New Zealand
"JK was an incredible player. Six foot four, could run like the wind and you'd hear these almost romantic stories about how he trained in the forests during tournaments, even when it was a more amateur time for the sport.
Then you of course have an iconic moment of World Cup joy for New Zealand in 1987, where JK runs through about 12 Italian defenders straight from the kick off to catch the ball and score a try. Literally 'kicking off' the tournament for the All Blacks.
Again, on a personal level though, he was my coach on the 2012 Barbarians tour and he was a guy you'd want to spend time around and he's helped so many friends of mine when he didn't have to. So there's the rugby player, his impact on the World Cups, a coach, and I would say more importantly, the man who has had a massive impact in the mental health space for the sport."
Left Wing – Jonah Lomu, New Zealand
"Nobody comes anywhere close to Jonah Lomu. His cultural influence on the sport and his legacy goes beyond anything any other player has done in rugby union – even without winning a World Cup. He changed the game forever by making it more exciting, bigger, more interesting, you just wanted him to get the ball and it was such a shame it was so short lived.
Personally speaking, one of my proudest moments was playing against Jonah Lomu in 2004, in my first year of professional rugby. It was also one of my first games for Glasgow Warriors lining up as an 18-year-old against Cardiff Blues, and I had never been more enthralled and nervous to play against him.
At one point the ball popped off to Jonah and I can just remember seeing in my head the history of him trampling through people as I went for the tackle. So I closed my eyes and folded my arms and even though I thought I was about to be steamrolled by him, I was feeling almost happy about it. Anyway, next thing I open my eyes and I realise I've tackled him [laughs] and it's something I'll never forget."
Fullback – Matt Burke, Australia
"Here was a bloke who was really solid at the back, an outstanding kicker of the ball, could hit amazing angles, crack open defences, and of course, was a World Cup winner with the Wallabies in 1999. I love Matty Burke, he was brilliant."
Coach – Steve Hansen, New Zealand
"I'd love to have been coached by Steve, or any of the big All Blacks coaches. If you look back at the last 10-15 years and how the New Zealand sides have operated, how they've played and performed, it's unreal – Steve of course won it in 2015. Although, I will say the best man I've ever been coached by is Fabien Galthié; he's the best attacking coach ever."
Referee – Jonathan Kaplan, South Africa
"I'm picking the one guy I have a rapport with here, as this is a tough choice, and that's Jonathan Kaplan.
I bumped into him in Bermuda of all places and despite us both being hungover he was a real gent. I loved chatting with him and getting his insights on the game and he was by all accounts a good egg. Not sure, but there may have been some mojitos at that breakfast though."
Stadium – Ellis Park, South Africa
"The weather, the fans, the atmosphere, the noise and a very cool place that I've had the privilege of playing at with Scotland. In my view it would be the perfect place to host a Final and to be honest I want to see a World Cup held in South Africa."