Foreign v local: Jake White sets the record straight
REACTION: Jake White wants to set the record straight.
After a RugbyPass article last week challenged the 2007 World Cup-winning coach's views, he reached out to outline the situation as he sees it.
"I think it's important that people understand where I'm coming from," says White, now coach of the Bulls.
"I get a raw deal in the press sometimes. People think I'm sensationalistic but I'm not. I care very deeply about South African rugby and only want what's best for it. From my point of view, something is broken and unless we fix it we could see rugby in South Africa implode."
Our conversation has its roots in a shift in selection policy that now allows Springbok coaches to field players who ply their trade in foreign leagues no matter how many Test caps they've won.
This was implemented by Rassie Erasmus in 2018 who drafted in Duane Vermeulen from Toulon, Willie le Roux from Wasps and Francois de Klerk from Sale Sharks for the home series against England that yea
The plan worked. South Africa won that rubber 2-1, the Rugby Championship the following year and the World Cup in Japan – with Cheslin Kolbe, then at Toulouse, scoring the second try that buried England in the final.
Erasmus was heralded as a genius.
Captain Siya Kolisi transcended the sport. And the Springboks climbed to the top of the world rankings.
On this evidence, all is well in South African rugby.
But, according to White, dark clouds are looming over the horizon.
And unless swift reform is implemented, this bubble will soon burst.
"It's not sustainable," he argues.
"There are sponsors and people who put a lot of money in the game here. If you pick guys from overseas you're basically saying it doesn't matter if they don't commit themselves to South African rugby so how the hell can you sustain that?
Who would continue to invest in the game if every franchise and province didn't have a single Springbok? Who would want to carry on watching and supporting their teams? And if the provinces and franchises collapse, there goes the pipeline."
White's opinion on the matter has not changed since he coached the South Africa Under-21 side – featuring Schak Burger, Juan Smith and John Smit – to the Under-21 World Championship in 2002.
"I told the players then that they had to sacrifice everything to be a Springbok," White says.
"You can't negotiate with something that is priceless. I think it diminishes the value of the Springbok jersey when you select from overseas."
That last sentiment was echoed by White after his Bulls team succumbed to the Stormers in the United Rugby Championship Final.
It was that sentiment that prompted the article that drew his ire and resulted in our impassioned phone call.
"People accused me of whingeing after that game," he laments.
"I wasn't. We lost. That happens. But I was pointing out that yes, we might look at the Springboks now and be thrilled that they're performing and winning, but where is the next generation coming from? We're stuck in short-term thinking. Once this core senior group retires after the next World Cup are we going to see them replaced?"
The latest Springbok side, selected to play Wales in the second Test in Bloemfontein, contains six uncapped players. Two of them – Kurt-Lee Arendse on the wing and replacement lock Ruan Nortje – are coached by White at the Bulls. Many have argued that this is a sign of the strength in depth within South African rugby.
And after the Bulls pulled off a remarkable upset by beating Leinster in Dublin in the semifinals, it would appear that the pipeline is in rude health. What's more, if the likes of Lodewyk de Jager, Rudolf Snyman, Jasper Wiese and the rest of the foreign-based players were on the books with local franchises, would those on the fringe have gained the necessary experience within the URC to make the step up to Test rugby?
"No, they wouldn't have," White admits.
"But I'd rather have RG [Snyman] playing for me every week than for Munster. Let's be honest, the only reason why Ruan is playing is because RG is injured. If you're a young lock in South Africa and you're born at the same time as RG Snyman, Lood de Jager and Eben Etzebeth, well that's tough luck. That's an elite sport. If the guys ahead of you are better then you don't play.
"We must also think of the sponsors and the fans. If I'm putting money into South African rugby I want to see the Springboks every week. Does anyone in Pretoria care that Handre Pollard won the French league? No. All they care is that the country's best flyhalf was unavailable for the Test [against Wales] at Loftus. We have to think of the fans as well.
"Otherwise you might as well base the Springboks in Dubai. Get them the best clothes sponsors and a private jet to fly them around the world to play Tests in London or wherever else. They can be the biggest rugby brand in the world, but the South African public won't ever engage with them. How much longer do you think people will care about the team?"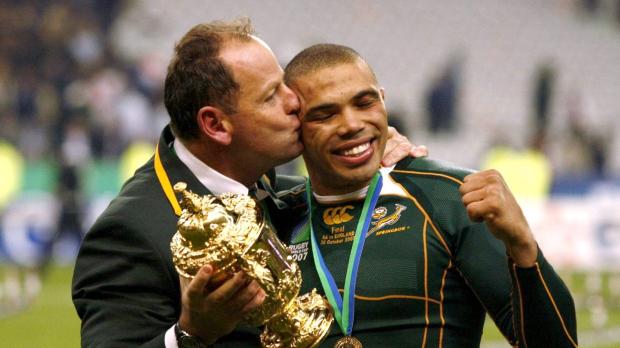 White also points to what he perceives as the dramatic decline of the Currie Cup, the oldest club competition in the world:
"The final used to be played in front of 50,000 people. There were 20-odd Springboks and a Test referee. You couldn't get a ticket. This year there were 2,000 [8,500] fans and no Springboks. Now people want to tell me that it's the same? Do me a favour. They should call it by another name because that's not the Currie Cup I know. If that's the way it's going then we might as well lock the doors and throw away the keys."
If White was handed the keys to South African rugby, he would still allow foreign-based players to be involved with the Springboks, but only as part of training camps and as injury cover.
He'd make them all sign an agreement that their next professional contract will be with a South African franchise – "That way we'd know where their commitments were," he says – and they'd have to pay for their own travel to and from their European or Japanese clubs.
"If they want to earn all that money overseas then they should contribute," White adds. "Why should SA Rugby pay for their business class flights every time they decide they want to be a Springbok again?"
Of course, White's opinion is coloured by the exodus underway at the Bulls. Two key members of the URC campaign in Arno Botha and Madosh Tambwe are heading to France to join Lyon and Bordeaux respectively. Currie Cup regulars Richard Kriel (Benetton) and Willie Potgieter (Kobe) are also on their way out.
Because of the comparatively weak rand, they will all be replaced by South Africans. The robust schools and academy systems within the country will continue to churn out talent and, with greater opportunities, a handful may don the green and gold one day.
But that is simply looking at the crystal ball from one vantage point. There is no denying that the Currie Cup has lost some of its shine. And if indeed a tree cannot stand on decaying roots then this is a cause for concern.
While the Springboks continue to assert themselves on the world stage, the doubters and sceptics can be ignored. Whether or not White is labelled a prophet or a fusspot will hinge on results on the field.
By Daniel Gallan, RugbyPass